US chef Walter Staib will arrive here today to begin filming for his PBS show 'A Taste of History,' which will depict the Guyanese influence on the cuisine of Colonial America.
Chef Staib is a guest of Demerara Distillers Limited (DDL), the company said in a press release yesterday.
According to the website for the three-time Emmy Award winning cooking show, which is now in its third season, it "dramatizes 18th Century America – the foundation of our country from a culinary perspective."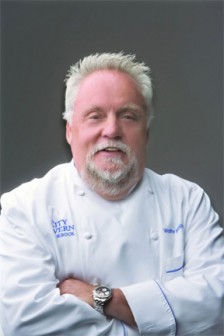 DDL said filming here will focus on the cultural and historical evolution of cooking and rum production, as well as the food and drink culture in Guyana.
Staib will also display his culinary skills using El Dorado Rum to create a variety of dishes at a DDL Foundation charity dinner on Monday at the Pegasus Hotel. All proceeds from the dinner would go to the DDL Foundation.
According to DDL, Staib's accolades include his appearance on Food Network 2011 Iron Chef Competition and when he was featured on the Food Network's "The best thing I ever ate."
Around the Web