The question of who will become the Speaker of the National Assembly when Parliament is convened will have to be settled by consensus, government official Gail Teixeira says.
Teixeira, in an invited comment to this newspaper, played down the issue, saying that President Donald Ramotar in recent meetings with the opposition parties merely indicated who the government wanted to hold this post. The government would like Ralph Ramkarran to return as Speaker. Both the APNU and the AFC, however, are opposed to the return of Ramkarran to the Speaker's chair.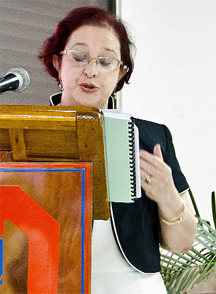 Teixeira indicated that APNU seems to have unofficially nominated Deborah Backer.  AFC Chairman Khemraj Ramjattan on Wednesday said that his party favoured either Moses Nagamootoo or party leader Raphael Trotman for the post. Ramjattan, however, indicated that the AFC had no problem with Backer.
Teixeira, while acknowledging the differences in opinion, said that the matter would be addressed by consensus.
Ramotar leads a minority government in the National Assembly, with the PPP/C securing 32 seats and the APNU and AFC together securing 33.  A source had told this newspaper that it would be unlikely that the Opposition would want to support the government's nominee since this could be seen as a way of ceding control of the House.
Meanwhile, Teixeira indicated that Ramotar's recent engagements with the APNU, AFC and TUF are exploratory engagements to get their take on a number of national issues.
She said that these engagements are part of a process which takes into consideration a new situation.  "I think it is a healthy development," she added.
Around the Web