Sumasar was freed after spending more than six months in jail and, on November 23, a Queens jury found Ramrattan guilty of 11 charges tied to the rape and subsequent conspiracy to frame Sumasar. Three of his accomplices pleaded guilty to perjury.
In a lawsuit filed last week in Brooklyn federal court, Sumasar said that "police aided and abetted the rapist by concealing information in their possession about the rapist and fabricating additional evidence against the victim."
"Ramrattan's scheme would not have been successful but for the deliberate misconduct and reckless lapses" by law enforcement officers who knew Ramrattan's criminal history but chose to ignore it because of his past work as a police informant, according to the complaint.
Those law enforcement connections helped Ramrattan in the past, according to the lawsuit. Years before the scheme against Sumasar, Ramrattan used his connections to help intimidate another woman accusing him of rape into dropping the charges, the lawsuit alleged.
'DELIBERATE AND TRAUMATIZING'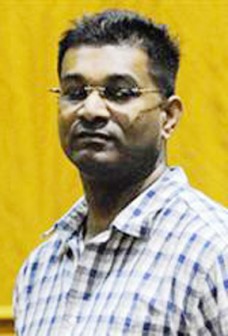 The lawsuit brings claims for false arrest, civil-rights conspiracy, malicious prosecution, infliction of emotional distress, negligence and constitutional violations. Sumasar and her daughter, also a plaintiff in the lawsuit, are seeking an unspecified amount of money in compensatory and punitive damages.
"The improper, deliberate and traumatizing conduct of all defendants in fabricating evidence, concealing information about Ramrattan and/or refusing to investigate Ms. Sumasar's readily verifiable claims of innocence, resulting in her wrongful arrest and prosecution … was extreme and outrageous, especially in light of their knowledge that she was a rape victim and her truthful claim that her rapist was behind the allegations against her," the complaint stated.
Sumasar had initially reported being raped by Ramrattan in March 2009. After Ramrattan was indicted by a Queens grand jury on rape charges, he came up with the scheme in an attempt to silence her, Sumasar said.
Nassau County Attorney John Ciampoli told Reuters that the case would probably hinge on whether law-enforcement agents could show they had probable cause to arrest Sumasar at the time the accusations were first made.
"We're prepared to defend it," Ciampoli said.
A spokeswoman for New York City called it a "tragic situation" but declined further comment.
Requests for comment to the New York City Police Department and Nassau County were not immediately returned Tuesday afternoon.
The case is Sumasar v. City of New York et al, in the U.S. District Court for the Eastern District of New York, no. 11-5867.
For Sumasar: Nick Brusin, Deborah Cornwall, Anna Hoffmann and Sonam Henderson of Neufeld Scheck & Brustin.
For the defendants: Not immediately available.
Around the Web