Six persons accused of the July 12 $7 million Bel Air Gardens robbery yesterday made another court appearance before acting Chief Magistrate Priya Sewnarine-Beharry at the Georgetown Magistrates' court, while the charges against a seventh accused, Shawn Hinds, were withdrawn.
The prosecution informed the court that the Director of Public Prosecutions (DPP) had ordered that the charges against Shawn Hinds be withdrawn. Hinds, 41, a former policeman and taxi driver, resides at Lot 552 East Ruimveldt.
The matter was adjourned until February 9, 2012.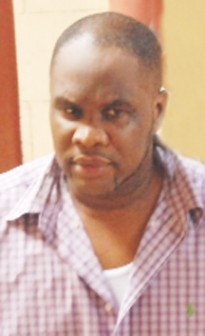 The allegation against Jermaine Mitchell, Rabindranaught Seemangal, Aubrey Simon, Rayon Jones, Hardat Kumar, Chandraradha Rampersaud is that on July 12 at Bel Air Gardens, being armed with a gun, they robbed Annie Ramsood of $1.4 million and US$29,000 (equivalent to $5.8million) all totalling $7.2 million.
Additionally, being armed with a gun, they were all further accused of robbing Ramsood of one blackberry cell phone and a quantity of cash valued $427,000.
In addition, Mitchell, Simon, and Seemangal were arraigned for having in their possession eight rounds of 9 mm ammunition and one 9 mm pistol without being the holders of firearm and ammunition licences.
The jointly-charged accused denied these charges when they were read to them by the magistrate.
Finally, a lone Simon was accused of attaching a false number plate to a vehicle. Simon denied that on July 12 he had a false ID number plate; that being PKK 3700 on a motor vehicle, knowing same to be false.
Rampersaud, 50, is a domestic worker and resides at Lot 8 Pigeon Island, East Coast Demerara; Mitchell, 20, a carpenter, resides at Lot 2115 North East La Penitence; Seemangal, 20, resides at Lot 100 Shell Road, Kitty; Simon, 21, is a final year student of the University of Guyana and resides at Lot 14-14 Princes Street, Lodge; Jones, 19, lives at Lot 7 Hardina Street, Werk-en-Rust; and Kumar, 30, lives at Lot 23 Owen Street, Kitty.
Around the Web