The office of the Director of Public Prosecutions (DPP) has advised police to charge Office of the President (OP) Press Officer Kwame McCoy for allegedly gun-butting a man last month.
A source close to the investigation told Stabroek News that the DPP's office returned a file with all the details of the investigation to the police and advised that McCoy be charged with assault causing actual bodily harm and threatening behaviour, allegedly committed on Clifton Stewart on November 12. A charge has also been recommended against him for allegedly hitting a woman with his car.
When contacted for comment last night, McCoy told this newspaper that he was not aware of the Chambers' advice "and I'm not interested." He further stated that "none of these allegations have any basis in truth and it's just a matter of going through the procedure."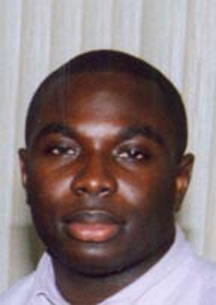 According to reports reaching this newspaper, the altercation between McCoy and Stewart stemmed from an argument on D'Urban Street, Lodge in relation to the removal of A Partnership for National Unity (APNU) posters. It is alleged that during the argument, McCoy struck Stewart in the head with a gun.
Stewart recounted to Stabroek News last night that he spotted McCoy and others putting up posters in the Lodge area, and he overheard the OP official instructing the others to put one of the PPP/C posters over an APNU poster. Upon hearing this, Stewart said he stepped in to correct McCoy, stating, "Kwame, you know better 'cause y'all sign the code of conduct this same week," which prohibited parties from interfering with each other's campaign material.
As a result of his comment, Stewart related that McCoy enquired of him who he was, to which he responded "it isn't relevant who I am." He said McCoy then began taking photos of him and he enquired whether he should pose for the photos. In response, to this, Stewart said McCoy told him "you're a marked man," to which he [Stewart] responded by walking away. He said McCoy then jumped into his vehicle, which was parked nearby, and drove slowly behind him, all the while accusing him of being an APNU supporter and using abusive language. After an altercation between McCoy and some young women, who were standing nearby and following Stewart's interjection and subsequent argument with McCoy, the latter reportedly exited his vehicle and struck the former in the head with his gun, causing bleeding.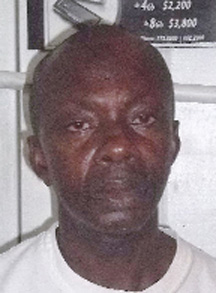 After sustaining the blow, Stewart said he ran off and caught a taxi and went straight to the East La Penitence Police Station, where he lodged a complaint and was given a medical form to take to the Georgetown Public Hospital (GPH). This form, he said, was supposed to be returned to the station, following his receiving medical attention, but initially he delayed doing so as he feared for his life.
After about three days, Stewart stated, he returned the medical to the station, where he gave a statement and was told to return. He said since then, he has been returning constantly to the station seeking justice but to no avail, which prompted him to hold a one man picket outside of the DPP's Chambers on Monday afternoon.
Stewart said he spent about two hours picketing outside the Chambers, following which he was told that the DPP had requested his presence. He related that he was on his way up to the DPP's office when he was intercepted on the first floor by Inspector Stephen Telford, who told him that he had been sent to tell him [Stewart] that the file had already been returned to the Brickdam Police Station and that he should go there yesterday to enquire of it.
Doing as he was told, Stewart said he visited the Brickdam Station and was informed that they were yet to receive the file. They have since taken his phone number and promised to get back to him. Given what he was told yesterday afternoon by the police, Stewart said he was not aware that the DPP has advised that McCoy be charged.
Stewart also related to this newspaper that since his picketing exercise, persons in three vehicles, a black, a green and a white, have visited persons in the vicinity of his home as well as his sister's residence and enquired about his whereabouts. He said the vehicles visited the areas at 9:30am, 1:00pm and 3:00pm, respectively. The man, now even more fearful for his life, told Stabroek News that he has made a report to both the Brickdam and East La Penitence stations.
Meanwhile the source told this newspaper that the DPP sometime last week recommended that McCoy be charged with assault causing actual bodily harm, after he allegedly hit Natalia Ross with his car. It was explained that one can assault someone with their vehicle. This file was returned to the police but McCoy is yet to be placed before the courts.
According to reports, some time on October 25, in the vicinity of Robb and Albert streets, McCoy and Ross, 22 had an altercation pertaining to the placement of political posters in the area. At some point during the altercation, McCoy allegedly jumped into his vehicle and struck down Ross, who was taken to the GPH, treated and sent away. The matter was reported to the police.
Around the Web