A 21-year-old man, who was on trial in the High Court for the murder of a 14-year-old girl four years ago, was yesterday found not guilty of both murder and manslaughter but was returned to the Camp Street prison where he is serving another sentence.
It is alleged that Travis Rudder, 21, of Lot 5 Public Road, Mc Doom, East Bank Demerara, on March 23, 2007, shot his girlfriend Donnis King at her parents' Bagotstown home during an argument.
The police had said that investigations disclosed that King had a relationship with the accused, who was 17 years old at the time of the incident, and the couple had an altercation, during which she expressed a desire to end the relationship. She was shot in the abdomen.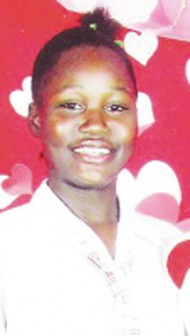 King had told this newspaper from her hospital bed that she had been attempting to dash into her house to escape her assailant when she was shot. Following two months of hospitalisation, the teen succumbed to her injuries on May 23 in the High Dependency Unit of the Georgetown Public Hospital.
After a month-long trial before Justice Dawn Gregory-Barnes, the matter was concluded yesterday when the 12-member jury deliberated for two hours after the case was summed up.
Rudder was previously charged with the unlawful possession of a firearm and that case was reportedly completed in the Magistrates' Court. He is said to be serving a three-year sentence.
State Prosecutors were Konyo Sandiford and Prithima Kissoon.
Around the Web