Although the streets are crowded and stores are filled it seems as if presents will be the last purchases Guyanese shoppers make this Christmas season.
While the gift shops and department stores Stabroek News visited had ample stock to facilitate budget, gender and age, shoppers were still in their 'shopping for the home and self mode'.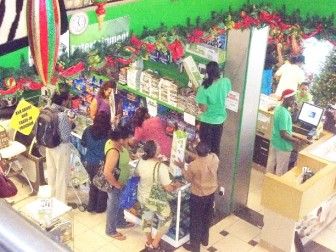 Manager of John Lewis Styles Sherry Lewis explained that last-minute gift shopping was a Guyanese norm so she was not worried about racking up record sales since she is optimistic that as it draws nearer the number of shoppers will be out in record numbers. Smiling, she said, "Last-minute shopping is a norm in Guyana. It is what adds the spice to Christmas shopping; it makes it more exciting so I am not worried because we are prepared to accommodate the shoppers."
At that store men and women had myriad gifts to choose from. Lewis explained that watches seemed to be the trend when purchasing gifts for men this year. In addition, the very traditional neck ties, belts, gadgets and wallets were also a good fallback option.
Trending in sales for women are clutches, handbags, shoes, costume jewellery, perfumes and clothing and lingerie.
Over at Exclusive Styles on Camp Street, their sales representative, while echoing some of what management of John Lewis said, added that men this year seemed to be more interested in footwear than clothing. Shopper Carl Cumberbatch agreed stating that it was his wish that his girlfriend get him an iPhone this year but he would be just as happy should he open his present and see "a good quality shoes or boots". He added "women need to understand that it isn't just women who love shoes. We men love a good pair of shoes too but we won't spend all day checking all them stores to buy just one."  There was also a variety of sneakers and shoes for men at Vinu's Shoe Box in the city mall, Clairan's, Giftland OfficeMax and at Shoe Source on Regent Street.
At Gizmos & Gadgets and Glamour Boutique most gifts for adults seemed on the higher end of a shopper's budget possibly because of the brand name items sold such as Serengeti, Ray Ban, Guess, Jessica Simpson, Kenneth Cole and Prada among others. However the toy store seem to have attracted most persons and the toys on sale ranged from remote control toys, Barbie dolls, Dora, Disney, Fisher Price, PS2, PS3, Xbox 360, Nintendo Wii, PSP, DSi and telescopes.
Celine Gouveia told Stabroek News that she was shopping for her three-year-old's present early because she did not want to be caught up in the last minute rush or be disappointed when she revisited the store only to hear that portable piano had been sold.
If clothing, shoes and toys are not on one's gift list then there is always jewellery both cosmetic and real and perfumes and colognes to choose from at jewellery stores city wide and the many perfume counters in stores. However the task might be differentiating a knock off from a legitimate brand since both are sold for nearly the same price.
Whatever the choice most stores are keeping their doors open later some until 8 pm to accommodate late shoppers.
Around the Web