At least 600 workers of the state-owned Guyana Power and Light Company Inc. (GPL) are to receive an eight percent salary hike retroactive to January 1st of this year, even as the utility company complains that it is in dire financial straits.
GPL and the workers' union, the National Association of Agricultural, Commercial and Industrial Employees (NAACIE), inked the wage agreement yesterday, after two rounds of talks that were a stark contrast to previous protracted negotiations. Both GPL and NAACIE were eager to disclose their happiness with the timely negotiations.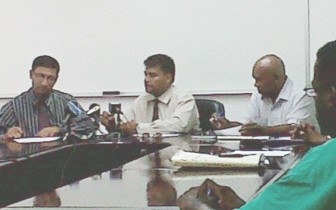 "NAACIE is quite happy with this agreement. It took us just two meetings to reach an understanding. Unlike the others which took us to arbitration after 11 and 13 meetings we are now back to cordial relations with the company," NAACIE's President, Kenneth Joseph said at the signing ceremony and news briefing.
Joseph opined that the eight percent was accepted, seemingly because it was the same level of increase that public sector workers and several other categories of government workers have received. Fringe benefits that were outstanding for four years would also be paid.
GPL Chief Executive Officer Bharat Dindyal assured that the workers will receive monies by tomorrow, by which time the company is aiming to ensure that the payout would be completed.
Further, the company plans to early next year upgrade workers and change their classification with a view to paying them accordingly. This will see workers who would have completed professional development courses sponsored by the company receiving salary adjustments.
GPL's Deputy Chief Executive Officer Aeshwar Deonarine noted that the increase was being made at a time when the company has been battling increased prices for fuel.
The company, he stated, is saddled with a $2.5 billion wage bill and fuel costs pegged so far at $23 billion due to the global increase in oil prices. Deonarine said if the cost of fuel continues to escalate, GPL would have to turn to government for a loan. He informed that GPL uses one million barrels of fuel annually and for this year prices had risen to USD$20 per barrel more than what was paid last year.
The company also uses over one million barrels of diesel annually and he said this is now being sold for more than the price of crude oil since early this year, costing about US$20 more per barrel.
He added that GPL has decided not to levy a fuel surcharge on customers and, as a result, has lost $4 billion in revenue.
Around the Web