(Trinidad Express) A mother and her two young children were found murdered at their Plumbago Avenue, La Horquetta, home on Thursday.
Up to late Thursday evening, La Horquetta residents were trying to come to terms with what could drive someone to slaughter Vonetta Haynes-Reyes and her sons, Malik, eight, and Makasi Reyes, four.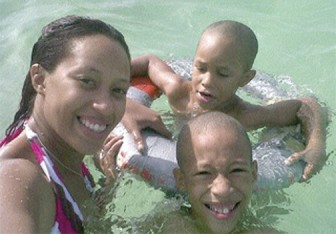 The dead family was discovered by PCs Leroy Joseph and Lewis of the La Horquetta Police Station around 3.05 p.m. after the lawmen responded to a report of a disturbance at the family's residence.
Police said the victims were found with their throats slit in separate bedrooms in their home.
Haynes-Reyes, police said, worked as a clerk at a store in Trincity Mall while her sons were on school vacation.
A Nissan B12 motorcar belonging to Haynes-Reyes was missing from her home, police said.
Officers added that La Horquetta police had to break down the front door leading to the house when they made the gruesome discovery.
Police said they believe the person or persons responsible for the incident locked up the house after and left with the woman's vehicle.
Officers said even though the perpetrators painted a picture which would suggest that robbery was the motive behind the killings, investigators believe it was a domestic matter.
Crime scene investigators from the Region II Homicide Bureau of Investigations, which is now based at Riverside Plaza in Port of Spain, up to late last evening were at the scene conducting investigations into the incident.
Residents in the area, who came out in their numbers and remained at the scene for hours, described the killing as a shocking and horrifying act.
A relative, who identified himself as Martin Mitchell, told reporters his family remained shocked and horrified over the incident.
He described Vonetta and her children as innocent persons who were killed, describing the incident as extremely sad and heart-breaking.
Mitchell said Vonetta was planning to take her children to her mother's wedding in the United States.
"It's sad. It's really a sad, sad thing what happened here today (yesterday) to her and her children. I really don't know what's taking place right now.
"I talk to their (Makasi and Malik) grandfather last week and ask him to come and take the two kids for the vacation because I don't know, I just move with my spirit.
"This whole thing is really shocking to me because when I heard about it, I just drop all my bags in San Juan and came up here as fast as possible," a tearful Mitchell said.
"I really would like to know who is responsible for that. I mean, we never had any kind of killings like that in the area, and it's so shocking right now. I hope the police find the person who did that, so we could know what really happen here cause she (Vonetta) and her boys were very nice and innocent people who don't deserve to die like that," one resident, who asked not to be identified, told the Express.
Head of the Homicide Bureau of Investigations Snr Supt Donald Denoon yesterday stated his unit was working around the clock to solve the homicides.
He said police didn't have much information regarding the killings since they were still processing the scene.
Denoon, however, promised officers will get to the bottom of the incident and bring those responsible for the killings to justice.
Around the Web