(Trinidad Express) – Lawrence Duprey was paid $1.1 billion from the deposits of CLICO policyholders in the five years prior to CL Financial seeking a billion dollar bailout from the government.
This was the claim made by Neal Bisnath, the attorney from CLICO, as he sought to tie up a couple of "loose ends" at the Commission of Enquiry into the collapse of CL Financial and the Hindu Credit Union (HCU) at the Winsure Building, Richmond Street, Port of Spain, on Thursday.
Bisnath said Duprey, former executive chairman of CL Financial, was paid a monthly income of $5 million by subsidiary CLICO.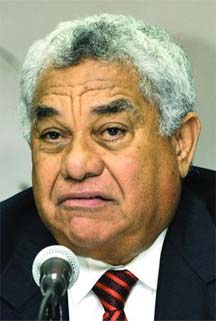 In addition to his yearly income, Duprey was also paid multi-million-dollar consultancy fees throughout the year, Bisnath said. In 2007 Duprey was paid $90 million, Bisnath said then.
Bisnath finished his cross-examination of former Group Financial Director of CL Financial, Michael Carballo.
"Were you aware that for the period 2004 to 2008 CLICO paid through CLF for the benefit of Mr Duprey through his company DALCO, the sum of $1.1 billion?" Bisnath asked Carballo.
"I was not aware of that at all," Carballo said.
"And if we were to do the math Mr Carballo, Mr Duprey in effect collected between the period 2004 to 2008 a sum in the excess of $200 million per year," Bisnath said.
In addition to Duprey's billion dollar income in the five years prior to approaching the Central Bank for "urgent liquidity support", CL Financial also paid a $21 million dividend to its shareholders, Queen's Counsel Bankim Thanki, the attorney for Central Bank, said.
CL Financial held its annual general meeting hours before the first meeting with the Central Bank.
"We know that CLF had gone to the Central Bank and government seeking urgent liquidity support in what could clearly be categorised as a dire emergency. Would you agree with me that it was wrong to pay those dividends to shareholders at that point in time?" Thanki asked.
Carballo said the dividends were paid to quell a potential "internal uprising".
Around the Web