CARACAS (Reuters) – Jiving to rap music and vowing a "thrashing" in Venezuela's vote exactly a year away, President Hugo Chavez resuscitated a left-wing political coalition yesterday that he hopes will propel him to re-election.
The 57-year-old socialist leader is convalescing after four rounds of chemotherapy following cancer surgery in June.
Yet he managed to dance beside young Venezuelan rappers at the start of a ceremony to launch the "Great Patriotic Pole."
"Long live Venezuela! Long live hip-hop!" laughed Chavez, a consummate political showman who also tossed a baseball for cameras last week to deny a US media report that he had been rushed to hospital for emergency kidney treatment.
In power for 12 years, Chavez has revived the Patriotic Pole in an effort to shore up support ahead of an October 7, 2012, election that is shaping into a close and fascinating tussle for control of South America's biggest oil exporter.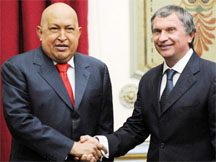 Chavez had himself sidelined the movement in the past, but now wants it to be his flagship electoral coalition, grouping the ruling Socialist Party with various grassroots movements and other smaller parties such as the Communists.
"This is a milestone in the course of the socialist revolution," he said during a ceremony at his Miraflores presidential palace in Caracas.
Taking advantage of disunity in the opposition and drawing popularity from education, health and other social initiatives in slums, Chavez has won all but one of about a dozen national votes during a rule that has transformed Venezuela.
The charismatic former soldier, who idolizes Cuba's Fidel Castro and has nationalized large parts of the OPEC member's economy, predicts a win next year with more than 60 per cent.
"We're going to give the bourgeoisie a thrashing!" he said in familiar rhetoric, urging supporters to achieve a record 10 million votes for him next year.
This time, however, Chavez faces a buoyant opposition coalition that has finally united disparate parties, and will choose a single candidate in a primary set for February.
Polls show Chavez's popularity at nearly 60 per cent, aided by sympathy over his illness. But they also show deep dissatisfaction with crime levels akin to a war zone, stuttering services including power-cuts, and ever-soaring prices thanks to the highest inflation in the Americas.
Various candidates for the opposition ticket also held events yesterday around the nation to push their causes. Some started stopwatches to symbolize time running out for Chavez.
The governor of Zulia state, Pablo Perez, who is running second in polls for the opposition candidacy, said Venezuelans should focus not on names but the need to end the polarization of their country under Chavez.
"The big winner must be unity. It's not about individual names but the future of the country," said Perez, who runs the western state that produces much of Venezuela's oil.
Analysts say a large proportion of Venezuelans who neither back Chavez nor the opposition could swing next year's vote.
"2012 will be a fierce battle for floating, undecided voters, numbering some 2 million of the 18 million-strong electorate," said LatinNews, a London-based newsletter.
Around the Web