Former First Lady Joyce Hoyte died yesterday morning at the St Joseph Mercy Hospital.
She was 77.
Mrs Hoyte, the widow of late former president Hugh Desmond Hoyte, had been admitted to the hospital's Intensive Care Unit (ICU) after being taken there by ambulance on January 18. The main opposition PNCR, in a statement yesterday, said she had been ailing for the past three weeks. She was discharged but re-admitted one day later, the party noted.
Despite a battery of tests, doctors had been unable to determine her ailment.
Mrs Hoyte was widowed in December 2002, with the death of the former president, who was at the time leader of the PNCR. She had always kept a low profile during his tenure as head-of-state and later while he served as opposition leader. The couple suffered the tragedy of losing their daughters Maxine and Amanda in an accident on the Linden/Soesdyke Highway in 1985 and reactions to Mrs Hoyte's passing yesterday praised her for her strength in dealing with the loss.
In a statement on behalf of himself and the Government of Guyana, President Bharrat Jagdeo extended "heartfelt sympathy to the relatives and friends of this wonderful, gracious, considerate woman whose inner strength and fortitude in overcoming personal tragedies inspired us all."
The PNCR, meanwhile, conveyed "its sincere condolences" to her relatives.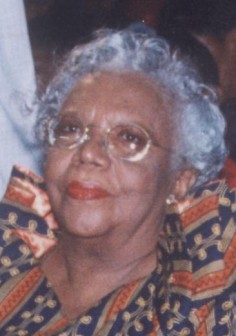 It added that details regarding the arrangements for her funeral would be made public as soon as they were available.
'A great woman'
Family friend and former Guyana Ambassador to China Ronald Austin said Mrs Hoyte's death and the circumstances of her last days had bruised him emotionally and in other ways. Speaking to Stabroek News yesterday, Austin said she had always been there to offer him advice, whether political or otherwise. He said she had filled an emotional void in his life. "Her death not only shocked me, it was very painful," he said. He described Mrs Hoyte as a great woman who was "very strong-willed whenever she took a decision."
Austin said, "She was a tower of strength behind her husband and kept their domestic environment stable and functioning." He stated what was a little known fact was that Mrs Hoyte was an avid reader of newspapers from all over the world and frequently was a source of information for her husband and even his predecessor, late President LFS Burnham. According to Austin, she followed politics worldwide and was particularly delighted with the emergence of US President Barack Obama. "She was a very caring, kind woman and I really benefited from her kindness," he added.
Austin said that it had not all been easy for Mrs Hoyte, while noting that the death of her children and that of her husband took a heavy toll on her. However, he said even with her recent hospitalisation she was still putting arrangements in place for the Desmond Hoyte Memorial Lecture series, in commemoration of his birthday on March 9.
Meanwhile, Carl Greenidge, who served as her husband's finance minister, expressed his condolences to Hoyte's relatives. He said she was a tough character but at the same time very matronly in the care she took of others. "She took an interest in my work after 1984 and would always show an interest in myself, in my children and family and would never miss an opportunity to speak to me or to tease me, which she loved to do," he said.
Greenidge said Mrs Hoyte maintained an interest in the politics of the country, even though she was at some distance from it following her husband's death. "She was something of a source of inspiration because she had a good feel of the pulse of the country; she had many friends who would come to her, talk about what was going on. You had a large number of people who would come to her to complain about corruption, about bullying in the public service, misdemeanours, so she was astonishingly well-informed and you could sit and learn a lot of things you didn't know," he said.
According to Greenidge, he believed she felt that her family had given a lot to the country and she was disappointed to find that the sacrifices seemed to have failed to bear fruit. "In the sense that she ended up looking around and seeing corruption, problems of growth and unemployment for the young that she hoped would have been a thing of the past and that I think weighed heavily on her," he said.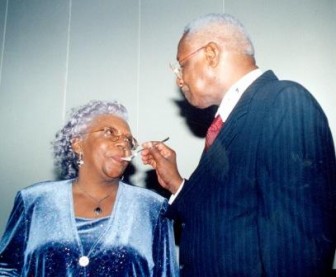 Comments

(Trinidad Guardian) Education Minister Anthony Garcia says the University of Trinidad and Tobago (UTT) is of the view that the organisation is "overstaffed and to run the university efficiently it will mean they have to trim fat." But former Tertiary Education Minister Fazal Karim is warning that the decision to retrench 287 staff members, will "compromise the quality of teaching and learning and administration at the university," and may impact its accreditation with the Accreditation Council of Trinidad and Tobago (ACTT).

In preparation for Guyana's emerging oil and gas sector and the bustling business usually synonymous with the industry, the Pegasus Hotel is expected to undergo a huge expansion which includes office and residential rental spaces.

Police Commissioner Seelall Persaud is to resume his duties today after spending approximately six months on leave, Public Security Minister Khemraj Ramjattan yesterday confirmed to Stabroek News.
The Alliance For Change (AFC) yesterday launched a scathing attack on the union GAWU, accusing it of decades of sabotage of the sugar industry and not genuinely representing the interests of its workers.

The importance of foot health, especially for persons with diabetes, was emphasized by Podologist Yvonne Braithwaite yesterday, when she launched the local leg of Rovon Health Care Inc, which includes a foot spa.