WASHINGTON, (Reuters) – Eight troops and a civilian  contractor killed in a Kabul airport shooting today were  all Americans, a Pentagon spokesman said.
"The current information we have from ISAF (International  Security Assistance Force) is that eight service members and  one civilian were killed in the attack. … All U.S.," said  Colonel David Lapan, a Pentagon spokesman.
The troops and contractor were killed in a shooting  incident involving an Afghan Air Force pilot at Kabul's airport  today, NATO said. It was one of the deadliest incidents  of "rogue" Afghans turning their weapons on foreign soldiers.
Comments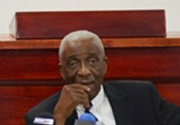 President David Granger is to swear in a Chairman of GECOM tonight, according to an advisory from the Ministry of the Presidency.

From left are GTU General Secretary, Coretta McDonald; Assistant Chief Education Officer (Nursery), Ingrid Trotman; Managing Director of ANSA McAL, Troy Cadogan and GTU President, Mark Lyte.

The Georgetown District of the People's National Congress Reform (PNCR) today called for tougher action by the Ministry of Public Security and the Judiciary against crime in the wake of the murder of two elderly women.

India-born South African businessmen brothers, Atul, Rajesh and Ajay Rajesh Gupta. The Gupta family, one of South Africa's wealthiest, has been accused of wielding undue influence behind the scenes.

Although government's advisor on oil and gas, Jan Mangal, has argued that competitive bidding should be employed in the award of future oil exploration leases, Minister of Foreign Affairs Carl Greenidge says such an approach may not benefit Guyana's interests in the long term.