MEXICO CITY, (Reuters) – President Felipe Calderon  apologized to victims of Mexico's war on drugs in an emotional  meeting with bereaved families yesterday that sought to try  and quell rising anger over violence sweeping the nation.
In a live television broadcast lasting several hours,  Calderon sat in silence listening to accusations from grieving  parents that his government was killing Mexico's youth and  allowing criminals to run rampant across the country.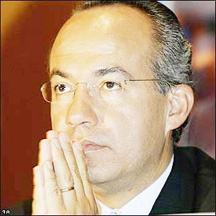 Some 40,000 lives have been lost since his army-led  crackdown on drug cartels began at the end of 2006, and  Calderon said he regretted the loss of life the violence had  caused.
"As a father, as a Mexican and as president, I am deeply  aggrieved by Mexico's pain," he said in a hall inside  Chapultepec Castle in central Mexico City. "We must ask  forgiveness for the people who died at the hands of these  criminals, for not having acted against these criminals."
The drug war has hit support for Calderon's ruling National  Action Party and polls suggest the centre-right grouping will  be ousted in a presidential election due in July, 2012.
Thousands of people have joined peace marches organized by  poet Javier Sicilia, whose son was killed by gunmen in March  and who urged Calderon at the meeting to renounce his  strategy.
But the president refused to apologize for taking on the  heavily-armed cartels with the armed forces.
"If there's anything I regret, it's not having sent them  sooner," he said as the interior minister, attorney general,  public security minister and other top officials looked on.
However, he conceded that the war was no longer only about  drug cartels in Latin America's second biggest economy.
"It all started with drug trafficking, but the problem for  me isn't about drug trafficking, it's about organized crime and  violence," Calderon said in an often impassioned address.
Members of the bereaved families were not won over, and one  by one they took turns to attack Calderon for failing to  address rampant corruption and impunity afflicting Mexico.
Around the Web