PARIS (Reuters) – France's Socialist Party said yesterday it was unlikely its erstwhile star Dominique Strauss-Kahn would enter the 2012 presidential race, despite the weakening of the sex assault case against him in New York.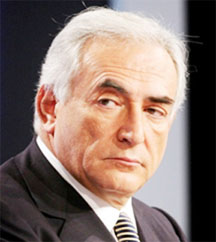 Party spokesman Benoit Hamon said the idea that Srauss-Kahn could now run for the presidency was "the weakest" of all possible scenarios for the former IMF chief's political future.
He said, however, that if he opted to make a late entry for the Socialists' October primary, beyond the July 13 deadline for candidates to register, the party leadership would not block it.
"Let's leave Dominique Strauss-Kahn some breathing space and let him speak once he is ready," Hamon told a news conference.
In another twist that could hurt his future, a lawyer for French writer Tristane Banon told Reuters she would file a complaint against Strauss-Kahn today for allegedly trying to rape her in early 2003, when she was 22.
"For me, it's become unbearable," Banon later told French weekly L'Express. "I have borne this on my own for eight years.
"To see Strauss-Kahn freed, then eating dinner in a luxury restaurant with friends, made me sick," she added, referring to reports Strauss-Kahn dined on pasta with truffles to celebrate his release from house arrest in the United States.
A lawyer for Strauss-Kahn, Henri Leclerc, told Reuters he would bring a counter-claim against Banon, calling her version of events "imaginary".
Despite his image as a "caviar Socialist", Strauss-Kahn had been tipped as the left's best chance of defeating conservative President Nicolas Sarkozy in 2012, but his shock arrest in May in New York on attempted rape charges has forced the Socialists to press on without him.
The left's election plans have been thrown back into turmoil, and public opinion divided, by news late last week that the case against him could unravel because of doubts about his accuser's credibility — raising the prospect of a political comeback.
Around the Web