CARACAS, (Reuters) – Venezuela's widely traded  global bonds inched down yesterday after President Hugo  Chavez's return from cancer surgery in Cuba, which has left  some doubts about how effectively he can govern.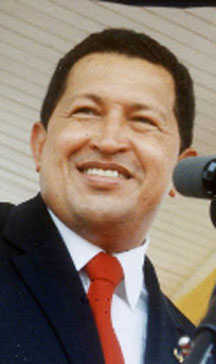 Appearing pale but defiant, Chavez saluted his people on  Tuesday on their 200th anniversary of independence, but he did  so from inside the presidential palace instead of personally  attending the independence celebrations.
Markets had interpreted the socialist leader's sickness as  positive news for investors, hoping it meant a change to more  business-friendly leadership in the OPEC nation. His return  from Havana has curbed recent gains by its debt.
Wall Street is focused on rumors of a forthcoming cabinet  reshuffle that could give clues as to who might be the ruling  Socialist Party's candidate at a presidential election due next  year, in the event the 56-year-old Chavez decides not to run.
A cabinet reshuffle might suggest Chavez recognizes that  his illness will limit his government role or crimp his  energetic, hands-on style, RBS Emerging Markets Strategy said  in a research note, but also indicated some paralysis or status  quo on policy management.
"Perhaps the replacement of some key managers (namely the  vice president) could show President Chavez wants to surround  himself with closer confidantes that would better reflect his  ideology and public image with the voters," it said.
Following big gains last week after Chavez's announcement  that he had undergone an operation in Cuba to remove a  cancerous tumor, the benchmark dollar-denominated 2027 global  bond was down 0.625 point to bid at 74.750 yesterday with a  13.024 percent yield.
Its bond due in 2022, the third-most-traded single emerging  market government debt, was flat to bid at 89.438 with a yield  of 14.791 percent.
Ordinarily, Chavez would have attended Tuesday's grand  military parade marking the bicentennial of the end of Spanish  colonial rule, which took months to prepare. Instead, he gave a  brief address from inside his palace with military chiefs.
Around the Web