LONDON, (Reuters) – The British government endorsed  a move in parliament to block Rupert Murdoch's bid for  broadcaster BSkyB yesterday, casting more doubt on his hopes to  expand in television despite a widening scandal over  phone-hacking by one of his newspapers.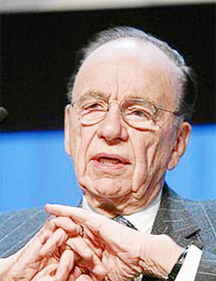 By joining a phalanx of resistance to the global media  magnate that now includes all Britain's main parties, Prime  Minister David Cameron showed how far Murdoch, long feared and  courted by both left and right as a kingmaker, may be damaged by  outrage at the past week's allegations of criminal journalism.
The U.S.-based media magnate, his son James and Rebekah  Brooks, the News International executive and former editor at  the centre of the storm, were summoned to answer questions next  week by a parliamentary committee which on Tuesday grilled  police chiefs on failures in earlier inquiries into the affair.
Murdoch, 80, is in London to deal personally with a crisis  that has seen him close down the top-selling tabloid News of the  World to try to save his pay-TV ambitions. But it was unclear  whether he or his two lieutenants would agree to appear before a  legislative committee likely to be uniformly hostile.
Questions they face focus on allegations that for years,  News of the World journalists and hired investigators hacked  into the voicemails of thousands of people, some of them victims  of notorious crimes, in search of stories, and that they also  bribed police officers for information.
Dozens of such allegations have been aired over the past  week. The latest included former Labour Prime Minister Gordon  Brown saying Murdoch papers had hired criminals to make  investigations at a time they were running stories about his  personal finances and the illness of his newborn son.
Two of those papers, the Sunday Times and the Sun, defended  their reporting. The Sun hit back in a front-page story in its  Wednesday edition over a story it broke in 2006 that Brown's  infant son was born with cystic fibrosis.
The Sun said the story was not based on any hacking of  medical records and came from information brought to the daily  — then edited by Brooks — by a member of the public. It said  Brown was then approached to discuss the information and that it  handled the story "sensitively and appropriately".
"On receipt of the information, The Sun approached Mr Brown  and discussed with his colleagues how best to present it," it  said. "We are not aware of Mr Brown, nor any of his colleagues  to whom we spoke, making any complaint about it at the time."

BID IN DOUBT

News International, the British newspaper arm of U.S.-listed  News Corp , has said it is cooperating with inquiries  relaunched by police in January. But it had no comment on the  decision by Conservative leader Cameron to vote on Wednesday for  a non-binding motion proposed by the Labour opposition urging  Murdoch to withdraw his bid for BSkyB .
The chairman of the parliamentary committee that wants to  question the Murdochs said it had no power to order them, as  American citizens, to attend, although they could compel Brooks,  the 43-year-old British former editor of the News of the World  whom Rupert Murdoch seems determined to defend, to do so.
Some analysts played down the significance of the vote for  News Corp, noting that the company had already accepted a  referral this week to the competition watchdog, which means a  delay — some called it a "respite" — of many months for a deal  which critics say would give Murdoch too much power in Britain.
Others suggested the heavy political fallout meant that even  a favourable outcome of that review would not necessarily clear  the way for the takeover.
Labour leader Ed Miliband said on calling Wednesday's vote:  "The best way of achieving our objective, which is to make sure  that this bid cannot go ahead while the criminal investigation  is going on, is for Mr Murdoch to withdraw the bid."
Ministers had looked embarrassed by having already given  their provisional blessing to Murdoch's offer to buy out the 61  percent of pay-TV group BSkyB he does not already own, for some  $14 billion. That approval left the fate of the deal largely in  the hands of independent officials, rather than politicians.
Around the Web