KANDAHAR, Afghanistan, (Reuters) – The younger  half-brother of Afghan President Hamid Karzai, one of the most  powerful and controversial men in southern Afghanistan, was  shot dead at his home on Tuesday by a senior and highly trusted  family security guard.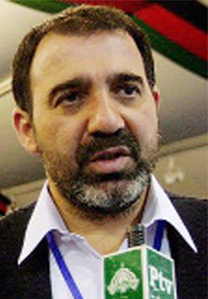 Ahmad Wali Karzai's assassination will leave a dangerous  power vacuum in volatile Kandahar province, the Taliban's  birthplace and a focus of recent efforts by a surge of U.S.  troops to turn the tide against the insurgency.
He was accused of corruption and ties to the opium trade,  but always denied wrongdoing and was strongly supported by his  brother whose influence he shored up in the south.
President Karzai may find his reach there is now limited as  a potentially violent power struggle plays out among the  possible successors to his brother.
"We felt more safe when Ahmad Wali Karzai was around," said  Tooryalai Wesa, the governor of Kandahar who outranked Karzai,  but like almost everyone in the province deferred to him.
"His loss will have a negative impact on issues with  tribes, and current affairs and security. Kandahar today  witnessed the darkest day," Wesa added at a news conference.
Ahmad Wali Karzai, born in 1961. was head of the Kandahar  Provincial Council, a largely consultative role, but his power  came from his family and tribal connections and his fortune.
He was shot dead by Sardar Mohammad, a senior member of the  Karzai family's security team in Kandahar who had known his  victim for at least a decade and was based at a compound in the  village of Karz, where both brothers were born.
Mohammad traveled into Kandahar yesterday morning saying  he had an application he needed to give his boss, Kandahar  police chief Abdul Razeq told a news conference.
"The man carried his pistol through the security checks to  Wali Karzai's room. As soon as Wali Karzai came out of  bathroom, he opened fire and shot him in the head and chest,"  Razeq said.
Mohammad was shot dead by Karzai's bodyguards moments after  opening fire, witnesses and officials said.
Ahmad Wali Karzai was the first of Karzai's close relatives  to be killed since he became president, but their father was  assassinated in 1999 while in exile in Pakistan.
"My younger brother was martyred in his house today,"  President Karzai said at a news conference in Kabul held with  his visiting French counterpart, Nicolas Sarkozy. "I hope these  miseries, which every Afghan family faces, will one day end."
The White House condemned the killing in "the strongest  possible terms" spokesman Jay Carney said. Asked about a  reported Taliban claim of responsibility, Carney said, "We  don't know who's responsible.  There have been some claims, and  we will certainly work with the Afghan authorities on that."
Around the Web