MONTEVIDEO,  (Reuters) – Former Uruguayan dictator Juan Maria Bordaberry, convicted of killing political opponents  during his reign, died of respiratory failure yesterday at age  83.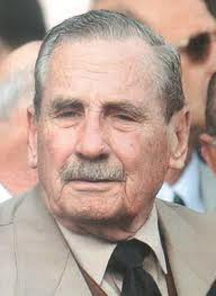 Bordaberry, who was elected president in 1971 before  dissolving Congress and ruling by military-backed decree, was convicted last year. He was given a 30-year term and allowed to  serve his sentence at his home due to health problems.
Friends of the family and lawmakers from the center-right  Colorado party, in which Bordaberry's son Pedro serves as a  senator, confirmed the death. A one-time cattle rancher, Bordaberry was president for  about four years until he was replaced by the military.
Some 200 people were kidnapped and killed during Uruguay's  1973-1985 dictatorship. Many more were arrested and tortured.
"The generation that brought conflict to Uruguay is coming to an end," Luis Alberto Heber, head of the center-right  National Party, told local radio. "The page is turning."
Uruguayans remain divided over how to deal with former  military officers accused of human rights crimes.
The issue has become a political problem for the country's  current leader, Jose Mujica, a former leftist guerrilla fighter  who had been jailed during the dictatorship.
A year after democracy returned to the small nation of 3.4  million people, a law was passed to protect officers from  prosecution. Uruguayans voted to maintain that law in two  referendums in 1989 and 2009.
Around the Web