JEDDAH, Saudi Arabia, (Reuters) – Saudi Arabia's King  Abdullah demanded an end to the bloodshed in Syria yesterday and  recalled his country's ambassador from Damascus, in a rare case  of one of the Arab world's most powerful leaders intervening  against another.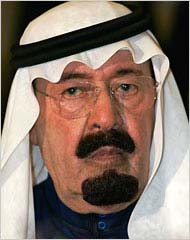 It was the sharpest criticism the oil giant — an absolute  monarchy that bans political opposition — has directed against  any Arab state since a wave of protests roiled the Middle East  and toppled autocrats in Tunisia and Egypt.
The Saudi statement came with all the weight of the king's  personal authority, and follows similar statements since  Saturday from the Arab League and the Gulf Cooperation Council  (GCC).
"What is happening in Syria is not acceptable for Saudi  Arabia," he said in a written statement read out on Al Arabiya  satellite television.
Events in Syria had "nothing to do with religion, or values,  or ethics", the king said.
A crackdown by Syria's President Bashar al-Assad against  protests has become one of the most violent episodes in the wave  of unrest sweeping through the Arab world this year.
Yesterday, activists said Syrian troops with tanks had  launched an assault on the city of Deir al-Zor in the east of  the country, killing dozens. The past week has seen scores of  people killed in a siege of Hama, a city where Assad's father  launched a crackdown nearly 30 years ago, killing thousands.
Assad's government says it is fighting against criminals and  armed extremists who have provoked violence by attacking its  troops. Activists and Western countries say Assad's forces have  attacked peaceful protesters.
"Syria should think wisely before it's too late and issue  and enact reforms that are not merely promises but actual  reforms," the Saudi king said.
"Either it chooses wisdom on its own or it will be pulled  down into the depths of turmoil and loss."
 ARAB LEAGUE BREAKS
SILENCE ON SYRIA       
Earlier yesterday, the Arab League, in a rare response to  the escalating bloodshed in Syria, called on authorities there  to stop acts of violence against civilians.
Although several Arab states have joined the West in  opposing Libya's Muammar Gaddafi, most of the region's rulers  have been cautious about criticising other Arab leaders during  the wave of protests this year.
The other regional heavyweight, Turkey, whose foreign  minister is due in Damascus tomorrow, has been voicing its  disapproval for months.
Saudi Arabia had maintained its silence regarding Syria  despite deep antagonism over the contest for regional hegemony  with Shi'ite Iran, one of Syria's only allies and chief patron  of Hezbollah, the Shi'ite militia and political movement to  which Saudi Arabia's allies have lost influence in Lebanon
Saudi columnist Hussein Shobokshi said the king's address  placed the responsibility for the bloodshed squarely on Syria's  ruling circle, and that recalling the Saudi ambassador could  pave the way for other states to wash their hands of Assad.
"This will open up the gate for other countries to follow  suit, Islamic and Arab," he said.
"I think these will ignite the spirit of protesters and give  them hope that the international, Saudi and Islamic, Arab  communities are firmly behind them. It will give them hope that  victory is in sight."
"I do not think that the Syrian government's position is  reversible. I think it is doomed and we should all now start  dealing with a post-Assad reality."
Shortly after the address, Al Arabiya reported Kuwaiti  parliamentarians called on members of the GCC — a bloc of  resource-rich monarchies in which Saudi influence is extensive  — to recall ambassadors from Damascus.
The channel provided no further details immediately.
King Abdullah sent Saudi troops in March to help  neighbouring monarchy Bahrain put down anti-government protests,  and Saudi officials have criticised the decision to put Egypt's  ousted leader Hosni Mubarak on trial.
Saudi Arabia has acted as a mediator in neighbouring Yemen,  and is hosting its President Ali Abdullah Saleh, who went there  for medical treatment after being wounded in a bomb attack when  protests against his rule turned into open conflict.
Around the Web