AMES, Iowa (Reuters) – Michele Bachmann narrowly won the Iowa straw poll of Republicans yesterday in the first big test of the 2012 presidential campaign, as Texas Governor Rick Perry formally launched a White House bid that could reshape the race.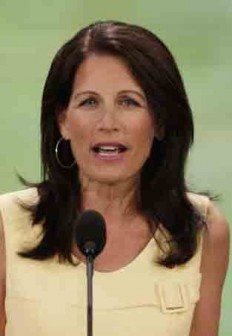 Bachmann, a US representative from Minnesota, edged out Ron Paul, another US representative, and rolled over the rest of the Republican field to capture the nonbinding Iowa mock election, a traditional early gauge of organizational strength in the state that holds the first 2012 nominating contest.
Bachmann won 4,823 votes to Paul's 4,671. Tim Pawlenty, who had focused on a strong showing in the straw poll to rescue his struggling campaign, finished a distant third with 2,293 votes in a bruising setback.
In South Carolina, Perry formally jumped into the race with a blistering attack on President Barack Obama.
"We cannot afford four more years of this rudderless leadership," Perry told a conference of conservatives, promising to reduce taxes, regulations and government intrusion in people's lives.
The straw poll and Perry's campaign launch, coming less than six months before Iowa's nominating contest, promised to reshuffle the Republican field fighting for the nomination to challenge Obama, a Democrat, in 2012.
Perry, a staunch social conservative with a strong job creation record in Texas, is expected to immediately vault into the top tier of contenders along with front-runner former Massachusetts Governor Mitt Romney. Perry visits Iowa today.
Around the Web