JERUSALEM, (Reuters) – Israel accepted yesterday a  call by international mediators to resume peace talks with the  Palestinians, who quickly reaffirmed their refusal to negotiate  until settlement-building stops on  land they seek for state.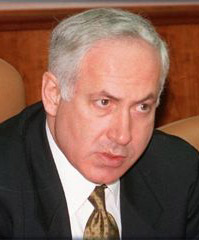 "Israel welcomes the Quartet call for direct negotiations  between the parties without preconditions," the statement by  Prime Minister Benjamin Netanyahu's office said.
"Israel calls on the Palestinian Authority to do the same  and to enter into direct negotiations without delay."
The four mediators — the United States, the European Union,  Russia and the United Nations — responded to a Palestinian  application for full membership at the U.N. on Sept. 23 by  urging both sides to resume talks within a month.
Israel and the United States oppose the unilateral bid  launched by Palestinian President Mahmoud Abbas after two  decades of on-again, off-again negotiations failed to establish  a Palestinian state.
Asked about Netanyahu's acceptance of the Quartet's  initiative, Nabil Abu Rdainah, a spokesman for Abbas, said  "returning to negotiations requires Israel to commit to stopping  settlement".
Abu Rdainah said Israel also must recognise the "1967  borders" lines that existed before its occupation of the West  Bank in a Middle East war that year.
Citing security concerns, Netanyahu has balked at U.S.  President Barack Obama's proposal to use those lines as the  starting point for statehood negotiations with the Palestinians,  who have yet to respond formally to the Quartet's call.
Complicating the forum's efforts and drawing a chorus of  international criticism, Israel announced plans on Tuesday to  build 1,100 new homes in Gilo, on annexed land near Jerusalem.
Israeli cabinet ministers who initially balked at accepting  the Quartet proposal changed their minds on Sunday, at least in  part as a bid to ease global anger at the latest settlement  construction plan, an Israeli political source said.
Israel considers all of Jerusalem, including the eastern  areas captured in 1967 as its capital, a claim that is not  recognised internationally. It says Gilo will remain in its  control under any future peace deal.
Palestinians want East Jerusalem as the capital of the state  they hope to establish in the West Bank and in the Gaza Strip,  an enclave controlled by Abbas's Hamas Islamist rivals since  2007.
Some 500,000 Israelis live in the West Bank and East  Jerusalem, areas home to 2.5 million Palestinians. Israeli  settlements, Palestinians say, will deny them a viable country.  Israel cites historical and Biblical links to the land.
U.S.-brokered peace talks collapsed a year ago after  Netanyahu refused to extend a partial moratorium on construction  in West Bank settlements. He has given no indication he would be  prepared to agree to another freeze to coax Palestinians back  into talks.
Around the Web