JOHANNESBURG, (Reuters) – The Dalai Lama, the Tibetan  spiritual leader, cancelled a trip to South Africa planned for  this week that had put Pretoria in a bind between its biggest  trading partner China and one of its modern heroes, Nobel Peace  Prize laureate Desmond Tutu.
The Dalai Lama's office said yesterday he cancelled the  trip intended for him to attend Archbishop Tutu's 80th birthday celebration because South Africa, which has had his application paperwork for weeks, had not issued him a visa on time.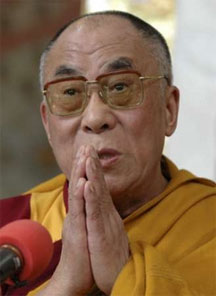 Last week, China agreed to $2.5 billion in investment  projects with South Africa during a visit by South African  Deputy President Kgalema Motlanthe to Beijing.
South African President Jacob Zuma's African National Congress (ANC) government had come under pressure from China not  to issue a visa to the Dalai Lama, a Nobel Peace Prize laureate  Beijing sees as a dangerous separatist.
Tutu said the government's action was a national disgrace.
"I really can't believe it. The discourtesy is mind  blowing," an emotional Tutu told a televised news conference  from Cape Town.
He said the government's decision was reminiscent of how  blacks were treated under apartheid and ignored how the South  African masses were helped by the international community to end  the oppression of white-minority rule.
"Mr. Zuma, you and your government don't represent me. You  represent your own interests. I am warning you out of love, one  day we will start praying for the defeat of the ANC government."
Foreign Ministry spokes-man Clayson Monyela told Reuters the  problem was in processing the paperwork: "South Africa has not  said 'no'. The man has decided to cancel the trip."
Tutu's foundation accused Monyela of subterfuge and said the Foreign Ministry tried to hide behind procedural excuses to  avoid making a decision.
"It is an insult to our intelligence," Dumisa Ntsebeza,  chairman of Tutu's foundation, told the news conference.
"MORALLY BANKRUPT"   
The Dalai Lama's office said in a statement: "We are,  therefore, now convinced that for whatever reason or reasons,  the South African government finds it inconvenient to issue a  visa to His Holiness the Dalai Lama."
The Dalai Lama, once embraced as a beacon of peace in South  Africa when apartheid ended, has become a diplomatic headache as  its economic fortunes are increasingly linked to China, which  had pushed Pretoria to reject a previous visa application.
South African officials said in the separate decision about  two years ago it denied a visa so as not to offend China. The  Dalai Lama was invited to attend a 2010 peace conference by Tutu  and former Presidents Nelson Mandela and F.W. de Klerk.
Around the Web