(Jamaica Observer) Prime Minister Andrew Holness has called for a national stance against crime, corruption and injustice.
In calling for an end to garrison politics during his speech after being sworn in as prime minister yesterday afternoon, he said Jamaica is crying out for new politics to emerge.
"It is time to end garrison politics," he said. "This will not happen overnight and it should not happen by force. Both political parties have it in them to mutually agree to end the social construct of the garrison."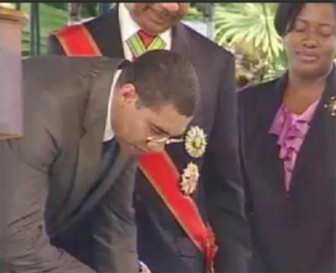 He said politicians should start the process by getting the leaders to walk to these areas of exclusion.
"I am willing to walk with the leader of the opposition to Tower Hill, and I may just turn up in Whitfield Town…," he said, stating that he will be writing to the leader of the opposition.
"It's not only that the rest of Jamaica is shut out from these communities," he said. "I'm concerned that the residents of these communities are locked off from the rest of Jamaica.
"The time has come to transcend the pettiness that has distracted us," he added.
Hinting that a love for the poor was not enough to eliminate the problem of poverty in Jamaica, he said "I love the poor but hate poverty", and said education is the way out of poverty.
"My parents invested in education," he said. "Educa-tion is the greatest investment in breaking intergenerational poverty. I'm here today because of education."
He encouraged all Jamai-cans to make the sacrifice and invest in their children's education. Addressing issues from parenting to the need for artistes to take responsibility for their lyrics; from the need for a commitment to the environment to the concerns about children graduating illiterate; the new prime minister pleaded for all Jamaicans to make a contribution to the country.
In a speech also peppered with references to the government's achievements, he said Government was "making progress in fighting corruption; in modernising the police force and in crime fighting.
He said soon anti gang legislation to fight the threat of organised crime will be brought to Parliament, then listed other achievements like a stable dollar, and growth in agriculture and tourism.
He also extended an invitation to the opposition to "hold hands for the national good".
"Today I take responsibility for the direction of this country," he said, to loud cheers and the barking of vuvuzelas.
Around the Web