MOSCOW, (Reuters) – Hundreds of people took to  the streets of Moscow for a second successive day yesterday to  demand an end to Vladimir Putin's 12-year rule, defying a  crackdown by tens of thousands of police reinforced by crack  Interior Ministry troops.
Police said they had detained about 250 people in central  Moscow when they tried to stage an unapproved rally and held  about 200 more in St Petersburg, where opposition forces have  also been emboldened by the prime minister's worst election  setback since he took power in 1999. After permitting the biggest opposition rally in Moscow for  years on Monday evening, the police were out in large numbers.  The Interior ministry said about 2,000 special troops were  supporting almost 50,000 police, and some moved through the city  centre in armoured vehicles in a show of force.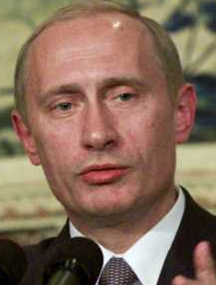 Hundreds of pro-Putin youths also tried to spoil the rally,  shouting "The people! Putin" and beating drums to drown out the  opposition protesters' chants of "Russia without Putin" and "We  want free elections!" A few minor scuffles broke out.
Boris Nemtsov, a liberal opposition leader, told Reuters he  had been detained. Two opposition figures, blogger Alexei  Navalny and Ilya Yashin, were jailed for 15 days for their role  in Monday's opposition protest, the biggest in Moscow for years. "We are not going to stop our struggle," Yashin said. The protests are a further sign of pressure on Putin to make  changes after his United Russia lost ground in a parliamentary  election on Sunday, even though it was criticised by Washington  and European monitors and the opposition say it was slanted in  the ruling party's favour.
Around the Web