DHAKA, (Reuters) – Pakistan captain Shahid Afridi  led from the front again to inspire his team to a 10-wicket  victory over West Indies in the first World Cup quarter-final today.
Afridi took four for 30 as West Indies collapsed to 112 all  out from 43.3 overs to take his total to 21 for the tournament  and overhaul Imran Khan's Pakistan record at a single World Cup.
Man-of-the-match Mohammad Hafeez, who had taken two cheap  wickets with his off-spin, then scored his maiden World Cup  half-century with 61 not out as Pakistan reached their victory  target from only 20.5 overs.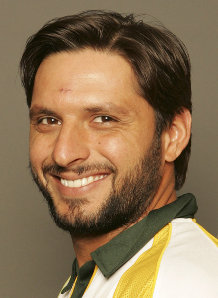 They will face the winners of Thursday's match between  defending champions Australia and co-hosts India in the second  semi-final in Mohali on March 30.
"Personally I just tried to maintain line and length, these  were perfect conditions for spinners if you bowled in the right  areas," Afridi told a television interviewer.
"In each game we've tried to make some plans against the  players and we tried to stick to our plans and the boys have  done a great job doing that. The bowlers have done a great job  from the first game to the seventh game."
Nothing went in West Indies' favour who, after a pathetic  batting display, were also poor in the field with Kieron Pollard  dropping Kamran Akmal on six before wicketkeeper Devon Thomas  grassed Hafeez on 17. Kemar Roach was the unlucky bowler on both  occasions.
Shivnarine Chanderpaul was the only batsman to defy the  Pakistan attack, scoring an unbeaten 44 from 106 balls.
WICKETS IN CLUSTERS
West Indies, the 1975 and 1979 champions, never recovered  after losing their first three wickets with only 16 on the board.
After Darren Sammy had won the toss and elected to bat,  Chris Gayle (8) struck Umar Gul straight to Afridi at mid-off.  Devon Smith (7) and Darren Bravo (0) both fell lbw in the space  of four balls to Hafeez, who had shared the new ball.
The experienced Guyana pair of Ramnaresh Sarwan and  Chanderpaul took the total to 58 before Sarwan was caught by  Umar Akmal off Afridi for 24.
Afridi then dismissed Pollard (one) and Devon Thomas off  consecutive balls.
Sammy was dropped by Younus Khan at slip off Saeed Ajmal on  one but lasted only one more ball before he was lbw to the  off-spinner. Two balls later, Ajmal bowled Devendra Bishoo for a  duck.
Roach recorded his best one-day score of 16, helping  Chanderpaul to add 30 for the ninth wicket.
"Definitely not enough runs on the board," said Sammy.
"They bowled well at us.  We didn't counter the bowling well  and hence we were bowled out for a low total.
"We lost wickets in clusters to spin through the tournament  and today was no different. We were on the backfoot early and  never recovered."
West Indies won the toss and decided to bat

112 all out (43.3 overs)

113 for 0 (20.5 overs)

Runs

Balls

4s

6s

Smith
lbw
b Mohammad Hafeez

7

14
1
0
Gayle
c Shahid Afridi
b Gul

8

9
2
0
Sarwan
c U Akmal
b Shahid Afridi

24

68
2
0
DM Bravo
lbw
b Mohammad Hafeez

0

3
0
0
Chanderpaul
not out

44

106
0
1
Pollard
c K Akmal
b Shahid Afridi

1

7
0
0
Thomas
lbw
b Shahid Afridi

0

1
0
0
Sammy
lbw
b Saeed Ajmal

1

3
0
0
Bishoo
b Saeed Ajmal

0

3
0
0
Roach
c Younus Khan
b Razzaq

16

43
2
0
Rampaul
b Shahid Afridi

0

5
0
0
Extras
2nb 7w 2lb
11
Total
all out
112
(43.3 ovs)

| | | | | |
| --- | --- | --- | --- | --- |
| Bowler | O | M | R | W |
| Gul | 7.0 | 1 | 13 | 1 |
| Mohammad Hafeez | 10.0 | 3 | 16 | 2 |
| Riaz | 6.0 | 0 | 29 | 0 |
| Shahid Afridi | 9.3 | 1 | 30 | 4 |
| Saeed Ajmal | 8.0 | 1 | 18 | 2 |
| Razzaq | 3.0 | 1 | 4 | 1 |

| | |
| --- | --- |
| Fall of wicket | |
| 14 | Gayle |
| 16 | Smith |
| 16 | DM Bravo |
| 58 | Sarwan |
| 69 | Pollard |
| 69 | Thomas |
| 71 | Sammy |
| 71 | Bishoo |
| 111 | Roach |
| 112 | Rampaul |

Runs

Balls

4s

6s

K Akmal
not out

47

61
7
0
Mohammad Hafeez
not out

61

64
10
0
Extras
1w 4lb
5
Total
for 0
113
(20.5 ovs)

| | | | | |
| --- | --- | --- | --- | --- |
| Bowler | O | M | R | W |
| Roach | 5.5 | 0 | 39 | 0 |
| Rampaul | 5.0 | 1 | 28 | 0 |
| Bishoo | 5.0 | 1 | 24 | 0 |
| Sammy | 5.0 | 1 | 18 | 0 |

Umpires: Bowden, S J Davis, Broad, D J Harper
Pakistan: Mohammad Hafeez, K Akmal (W), Shafiq, Younus Khan, Misbah-ul-Haq, U Akmal, Razzaq, Shahid Afridi (C), Gul, Riaz, Saeed Ajmal
West Indies: Smith, Gayle, DM Bravo, Sarwan, Chanderpaul, Pollard, Thomas (W), Sammy (C), Bishoo, Roach, Rampaul

21st over Commentary PAKISTAN (113-0) BT WEST INDIES (112) BY 10 WICKETS

Hafeez has a go at a bumper, top-edges, but the ball lands in no man's land. Two more singles follow before Kamran delivers the coup de grace with a clunk for four through the covers.

20th over Commentary Pak 106-0

Hafeez tugs Rampaul round the corner for three and Pakistan pass 100 and need 11 to win. Make that seven – short and wide from Rampaul and Kamran swats him away for four…

20th over Commentary Pak 99-0

Well, if it's any consolation, you could have been listening to the budget. The headline? Things aren't getting any better… and Liz Taylor's dead! Whataver you do don't stray onto the main news page, it will rather take the edge off the sunshine… four for Akmal, top-edging a bumper from Roach…

Danny, in the sunshine, in the TMS inbox: "What's the point of wearing anything that looks nice if no-one looks? If we didn't look we would all bump into each other on the pavement. So anyone who says they don't look at other people must be covered in bruises as well as not enjoying the beauty of their fellow humans."

18th over DRINKS BREAK Pak 95-0

That's Mohammad Hafeez's maiden World Cup fifty courtesy of a sweet square-drive for four and he follows up with another boundary through the covers. It's a slaughter, the Windies have been splattered. That's drinks…

17th over Commentary Pak 87-0

Two singles from Roach's first five balls leave Pakistan needing 26 from 100 balls. This game meandering to its conclusion now, and it's rarely reached more than a trickle.

From mjukphoto: "Afridi looks man of the tournament so far without anyone else coming close." #bbcworldcup #cwc2011

16th over Commentary Pak 85-0

MAIDEN OVER! When I watch this West Indies side play I sometimes imagine Sir Vivian Richards watching back at home, made almost tearful through anger. Very few in this side are fit to share a net with Sir Viv…

Tony in the TMS inbox: "Women will never be equal to men until they can walk down the street with a bald head and a beer gut and still think they are sexy."

Chris K in the TMS inbox: "My abiding memory of Fred Titmus was when he returned from a tour of the Windies after losing several digits from his foot in a boating accident. He was fielding against Warwickshire and he let the ball slip between his legs and go for four. One wag from Warwickshire shouted: "Must've gone between your toes, Fred." Fred smiled. What a gent."

15th over Commentary Pak 85-0

Pakistan's national day today, or so I'm told, so this victory and the manner of it will please the folks back home no end. Two for Kamran with a steer backward of point and he adds one with a back-foot shunt.
14th over Commentary Pak 81-0

Hafeez showing Fairy Liquid hands to feather Bishoo to the third-man fence. Bishoo gives the next one a bit of rip and Hafeez edges to just in front of Gayle at slip. One for Hafeez with an ease into the covers and Kamran plays a similar stroke for a single of his own – 32 runs required.

13th over DRINKS BREAK Pak 75-0

One apiece for Kamran and Hafeez from the over of Sammy and it's time for drinks…

Gil, London: "Surely to suggest that men looking at women in dresses, flowery or otherwise, has no place in this century is in itself an outdated view? Surely feminism gives the right to express sexuality. Therefore to suggest that men shouldn't look is to hinder and hamper this as it removes half of such expression. Rather the equality has brought women up to a point where BOTH sexes can be treated objectively by the opposite or same sex with neither feeling used or abused Anyyyyyyway how about the cricket, eh?"

David (Toledo, Spain) in the TMS inbox: "Sad news about Fred Titmus. Back in the days of Boycs' favourites (uncovered wickets) I used to enjoy watching him in harness with Jim Sims &/or Jack Young. One undying memory is of the day a plum-voiced Lord's announcer drew the crowd's attention to a printing error on the scorecard: 'F.J. Titmus should read Titmus, F.J."

12th over Commentary Pak 73-0

One for Akmal with a controlled drive through the covers and Hafeez picks up a couple with a tuck off his pads. Four more – short from Bishoo and Hafeez shows quick feet to dance into position and heave over mid-wicket.

11th over Commentary Pak 66-0

The Sammy Mystery deepens – leg-side guff and Hafeez helps the ball on its way to the boundary fence. One more for Hafeez with a leisurely drive through the covers before Kamran adds three to the total with a clip through mid-wicket. Forty-seven needed, 39 overs remaining.

10th over Commentary Pak 58-0

Hafeez picks up three courtesy of an inside-out drive and that's the end of the powerplay.

The way this game is going looks like it will be over at 13:30. This means I have a boring 3 and a half hours to sit through at work with no cricket to listen to!

Michael, Belgium, in the TMS inbox: "For Amina and Hannah's information, it is simply a fact of life that women, amongst all their other achievements, are 'the fair sex' (i.e. the beautiful sex). That means that the overwhelming majority of men (cricket fans or otherwise) find them attractive. To say anything else is a denial of reality. No amount of eclectic, postmodern brainwashing can change that. This in no way undermines the essential equality of men and women."

9th over Commentary Pak 55-0

This is a head-rolling defeat for West Indies, they have been splattered like a fly on a the windscreen of a Hummer. That's help-yourself stuff from Sammy and Kamran needs no second invitation, marmalising through the covers for four. Kamran goes for some heave-ho and is beaten, but Pakistan can afford to take plenty of liberties now.

8th over Commentary Pak 51-0

That's rancid bowling from Bishoo, short and wide and Hafeez is all over it like a stoodent on a kebab, lacing him through the covers for four. That's dreamy from Hafeez, a twirl to the thrid-man fence, and that's the fifty up from 47 deliveries. "Game over as far as I am concerned," emails Tim O'Connor, as if he has stumbled upon some previously unfathomable truth on his way to the watercooler…

7th over Commentary Pak 43-0

Skipper Sammy brings himself into the attack, he's not more than military medium. That's another maiden, though, at least it should go past 10 overs…

6th over Commentary Pak 43-0

Bishoo now with his leggies and he's managed to stick his finger in the dam. Unfortunately for West Indies, Roach and Rampaul have already been drowned.

Can the Windies be allowed to follow on and given a second shot? #bbcworldcup

5th over Commentary Pak 43-0

A single apiece for Hafeez and Kamran before Kamran unfurls a doozy of a back-foot drive through the covers for four. Laminate that shot and do what you like with it, no-one would mind. Aaah yes, Half Man Half Biscuit: "Oh I was walking round my local store, Searching for the ten pence off Lenor, When suddenly I bumped into this guy, On seeing who it was I gave a cry…" I can't tell you the rest, but it involves Fred Titmus… three more for Kamran, the right-hander squirting to mid-wicket.
4th over Commentary Pak 33-0

Rampaul, still striving for the yorker, strays onto Kamran's leg-peg and is patted away for one. Two for Hafeez courtesy of a square-cut – better from Rampaul, but still three runs from his over.

Nick in the TMS inbox: "Very sad news about Fred Titmus. I'm going to see Half Man Half Biscuit in June – let's hope they do a tribute performance of his song."

Alex in the TMS inbox: "Re: Will Collins (1219ish) – You have a problem with someone who has been in England since they were 13/14, and who has declared publicly that 'I owe nothing to South Africa, I learned my cricket in England', playing FOR England?! Surely the pleasure lies in recognizing that the grassroots to county to country system is producing good, potentially great players who want to play and succeed for England. The alternative being that they take this development and put it against us for a team that they don't necessarily identify with and for a country they don't feel a part of…"

3rd over Commentary Pak 30-0

Width from Roach and Kamran piles into that, flashing over Pollard at point for another boundary. Maybe got a finger to it, but he has a finger injury. Kamran runs down to third-man to nick the strike, Pakistan a quarter of the way after three overs.

2nd over Commentary WI 25-0 (target 113)

Boy, oh boy, West Indies have been taken by the lapels and they are being slapped senseless – four leg-byes, Rampaul spearing one down leg-side, before Kamran gets up on tippy-toes and flays through backward-point for four more. Another leg-side wide from Rampaul, taker of a five-fer against India, before Kamran square-drives for a single. If this was a 100m race, West Indies would be flat on their face in the blocks while Pakistan would be halfway down the track, a little bit embarrassing to be honest… four more, Hafeez squeezing off his pads…

Contributor BBC Test Match Special's Ian Bishop

"The bowlers seem too fired up. They have got to put the ball on the right length and try to use the proud seam. It's all very well bowling short but it should be a surprise to the batsman and not a stock delivery."

Amina Shah in the TMS inbox: "I totally agree with Hannah regarding the dress business. Some people have forgotten that this is the new century where women are equal to men or even better. Let's enjoy the day by respecting that fact and concentrate on cricket."

1st over Commentary Pak 11-0

Righto, Pakistan's openers Kamran Akmal and Hafeez are in the middle, we've got two slips and a gully in, Roach the bowler. Kamran is off the mark with a glide through third-man for one before Hafeez clatters Roach over extra-cover for four. Two more for Hafeez courtesy of a cut before Roach over-pitches and Hafeez creams him down the ground for four more. A belated dot from Roach, but the damage has been done…

Will Collins, Yorkshire, in the TMS inbox: "Just listened to the interview with Jade Dernbach. Born and raised in South Africa, moved over here in 2000. It's just making a mockery of the 'England team'. It takes some of the pleasure out of England victories when half the players aren't from this country."

Some sad news to report: former England off-spinner Fred Titmus has passed away following a long illness. Titmus played 53 Tests for England, taking 153 wickets. His first-class career spanned a remarkable 33 seasons, making his debut for Middlesex aged 16 in 1949 and his final appearance in 1982 at the age of 50 years and 276 days. All in all, a legend in the proper sense of the word.

Not sure Windies know which game they are playing today. Shall we text them the word 'CRICKET'?! Andre in Liverpool.

TIM in Cornwall – that Extras guy looks like a good batsman for the West Indies, they would have been better off opening with him.

Could their be a twist in this game? Could Pakistan get all out for 111? Doubt it… #bbcworldcup @bbc_rishi

44th over WICKET Rampaul b Afridi 0 (WI 112 all out)

That's a wrap – Afridi with the googly and Rampaul, sweeping, is bowled behind his legs… Afridi finishes with 4-30…

43rd over Commentary WI 111-9

Rampaul is the Windies number 11 and he survives the rest of Razzaq's over with the minimum of fuss. "Supporting the West Indies is like being a middle aged man," emails Gizi in Nottingham. "You know your best days are behind you, however, on rare occasions, you have the ability to roll back the years."

43rd over WICKET Roach c Younus b Razzaq 16 (WI 111-9)

Roach gone – he goes for some humpty over mid-wicket and holes out to Younus Khan…

42nd over Commentary WI 111-8

Afridi back into the attack and Chanderpaul picks up one with a steer to long-on. Roach adds one into the covers before Chanderpaul dabs to backward square-leg for a single. Roach sticking around, he's the third-highest scorer now with 16.

Surely Chanderpaul has just to go mad now! Try and get his 100 which will take West Indies to 160+ #bbcworldcup

41st over Commentary WI 107-8

Razzaq still making it sing, and that ball darts back and Roach gets a thick inside-edge for one. One more for Chanderpaul with a guide into the covers – this pair scooping up puddles at the moment, but they'll take anything they can get.

Shane Warne on Twitter: Think I have lost my touch re: predictions!! Mmmmm Pakistan bowlers and team look the real deal. Tough to beat. Could win World Cup!

40th over Commentary WI 104-8

Chanderpaul not stepping on the gas just yet. In fact, to extend the metaphor, he's parked up down a side street and reclined his seat. There's a single off his hip before Roach drives expansively for none.

Dave in the East Turkey Mountains: "With all the talk of Spring in the UK, the last comment about the floral dress has just tipped me over the edge. Its -10 and snowing here. Thanks."

39th over Commentary WI 103-8

Razzaq rolled into the attack for the first time. Chanderpaul tugs him for a single from outside off. Razzaq sending down cutters, a la Collingwood, and proving difficult to get away. 150? If they can manage it, don't count West Indies out…

Hannah in London: "Regarding ladies in floral dresses – I think the spring has gone to your head. This is not 1947! Women are also sitting checking the cricket scores, not wafting down the village lane to buy lunch for the menfolk. Go for a lie down love, I'll send Vinnie the masseur to walk on your back."

38th over Commentary WI 101-8

The partnership reaches 29 and Afridi calls for Gul. Gul right on the money from the off, Chanderpaul forced to dig out a yorker. One for Chanderpaul with a dab off his hip before Gul gets one to swing lavishly back into the right-handed Roach, but it misses leg-stump.

37th over Commentary WI 100-8

West Indies have matched their lowest World Cup total, which was 93 against Kenya in 1996 – they lost that game by 73 runs. Shiv played in that one as well, top-scored with 19. Two for Chanderpaul with a clip through mid-wicket, he looks like he's finally played himself in. Roach glides Riaz past the despairing dive of Younus at slip and picks up one before whipping through square-leg for four. Ton up…

Contributor BBC Test Match Special's Ian Bishop

"If West Indies can get to 150 we have talked about the vulnerability of the Pakistan batting so you never know."

36th over Commentary WI 91-8

One for Chanderpaul before Roach is beaten by one that skims on from Hafeez. Looks like this pair are playing for stumps – get the score up around 130, and who knows?

35th over Commentary WI 90-8

Pakistan dragging this out, it's like watching someone pull the legs off a spider one by one. Any bored men? I suggest you look out of the window, hoping upon hope to spy a lady skipping down the lane in a floral summer dress… Three from Riaz's fifth over, two singles and a leg-bye.

Nick in the TMS inbox: "Spring! And for all the craziness and death, I find I'm still in love with, among others, myself."

34th over Commentary WI 87-8

Hafeez on for his ninth over. Chanderpaul is beaten but survives and he moves to 86 with a rather ugly heave through mid-wicket for two. He now has 30 from 80.

33rd over Commentary WI 84-8

Riaz back into the attack after the drinks break. Afridi off the field for the moment, which I assume means Misbah has hold of the reins. One for Chanderpaul courtesy of a cut before Roach glides to third-man for one of his own. Afridi back on at the end of the over – give the state of Pakistan cricket, he was probably afraid of a sudden coup…

Gabes, Cambridge, in the TMS inbox: "Further to Craig from Blackpool's point, since this World Cup started, the world has seen a war, a devastating earthquake and tsunami, a level 5 nuclear disaster, civil unrest sweeping the Middle East. By the time it ends, I confidently predict that the world will be reorganised into three supercontinents, Oceania, Eurasia and Eastasia, and people will be subordinated to the all-pervading influence of something called Big Brother, or possibly Dancing on Ice."

32nd over Commentary WI 81-8

Chanderpaul should have been out two in two – first it's our old friend Kamran, The Man in the Iron Gloves, missing a regulation stumping, second it's Younus shelling a very takeable chance at slip.

31st over Commentary WI 80-8

Four for Roach, guiding Afridi to the third-man boundary. Roach adds a single, perhaps it's time for Chanderpaul to give it some humpty. May as well…

Contributor BBC Test Match Special's Ramiz Raja

"The damage was done when Chris Gayle went. He's so important to them and they haven't recovered. It isn't all about the pitch. There isn't a massive amount of assistance but Pakistan are doing the basics well. Chanderpaul is going to have to get going a little bit now."

30th over Commentary WI 74-8

Ajmal, with this slightly bent arm of his, to continue to Chanderpaul… that's another ruddy maiden… West Indies took a few early body blows and they pretty much took a dive. No fight, I'm afraid, and for that reason they're toast.

Adam, near Dundee, in the TMS inbox:

"Like a boozed up dog, I fell over relieving, Oh spring, don't hurt me.

By the way, hard to believe I know, but the sun is out and glorious here in northern Scotland."

28th over WICKET Bishoo b Ajmal 0 (WI 71-8)

Clueless, utterly clueless – Bishoo lunges forwards and has his furniture smashed to smithereens by a wicked Ajmal doosra…

28th over WICKET Sammy lbw b Ajmal 1 (WI 71-7)

Dropped! Toughie, Younus Khan shelling it at slip. Deary me, I'm slipping into a slight funk – Sammy missing a straight one, he's out lbw…

27th over Commentary WI 70-6

Afridi on a hat-trick… slip, gully, silly mid-off… Sammy is off the mark with a nurdle off his pads. Time for the Windies skipper to prove us all wrong, but he ain't no Sobers…

27th over WICKET Thomas lbw b Afridi 0 (WI 69-6)

First-baller for wicket-keeper Thomas – staying back, that would have ripped out middle, Afridi's 20th wicket of the tournament…

27th over WICKET Pollard c K Akmal b Afridi 1 (WI 69-5)

Chanderpaul pushes down the ground for one before Afridi cleans up Pollard – the big man looking to glide to third-man and he feathers it behind. "I'm sitting on a reception desk, unable to listen to TMS, and listening to everyone coming in telling me how wonderful the weather is," emails Hannah. "Stupid sunshine…"

26th over Commentary WI 67-4

WAKEY-WAKEY! Chanderpaul drops to one knee and hoists Ajmal over mid-wicket for six. One more for Chanderpaul brings Twenty20 specialist Pollard on strike and he's happy to block out the over. Pollard hasn't played much 'long' cricket, well, ever really – his side need him to dig in now…

25th over Commentary 60-4

Pollard is off the mark with a nibble off his pads for one and there's just one more run from the over, courtesy of a Chanderpaul push to long-on.

Jack, hiding from sunlight, London, in the TMS inbox: "Re your proclamation of the first day of summertime boozing in Blighty, I must inform you that was in fact yesterday… or that is going to be my excuse for my couple of drinks after work lasting six boozy, slurred hours and subsequent frailness this morning… I was hoping to catch some of the cricket during my sunny day lunchtime excursion, but the way those sons of fun from the Windies are batting it doesn't look that likely…"

25th over WICKET Sarwan c U Akmal b Afridi 24 (WI 58-4)

Sarwan's gone – loose shot, driving airily, and he holes out to Umar Akmal at point… talking of builders, here comes Pollard, spurs jingle-jangling…

24th over THE SUN IS OUT WI 58-3

Short from Ajmal and Sarwan makes room and carves him away for a couple. Sarwan very nearly plays on – limp back-foot stroke – before chopping through point for one more. At the halfway stage, West Indies 58-3… all very well laying foundations, but if your builders take this long, you want to make sure they're strong ones…

23rd over Commentary WI 55-3

Sarwan with a bit more invention, dragging Afridi through wide long-on for a couple. Sarwan moves to 21 with a dab into the covers before Chanderpaul sends his partner back, Sarwan having sensed a single…

22nd over Commentary WI 52-3

… just the two singles from Ajmal's over… he gets Chanderpaul in a real old pickle, the veteran southpaw making a hash of a cut shot before going walkabout and almost running himself out…

21st over Commentary WI 50-3

"Does anybody remember what the world was like before this World Cup started?" emails Craig from Blackpool. No, Craig, I don't, but there is an old lady who lives a couple of doors down who does. She assures me it has always been a cruel, unforgiving place. That's the Windies fifty courtesy of a clip off Chanderpaul's hip for one…

20th over Commentary WI 47-3

Two for Chanderpaul through mid-off, this time the left-hander letting his hands go, but Ajmal quickly prods Chanderpaul back in his hole with some probing deliveries. This is pretty desperate for the Windies, who are neither able to give it some clatter or work the ball about on a slow-paced pitch.

19th over DROPPED CATCH WI 44-3

SARWAN DROPPED! He sashays down the track and looks to slap Afridi over long-off and it's Gul who shells it diving forward. Tricky, but should have taken it really. Sarwan picks up two for the shot  and there are two more singles from the over.

18th over Commentary WI 39-3

Saeed Ajmal into the attack, off-breaks, 45 wickets from 37 matches. Chanderpaul tucks Ajmal away for one, that's the only run of the over…

17th over NOT OUT WI 38-3

… not out, Sarwan got too great a stride in, although Hawkeye reckons it was hitting… Maiden though, and Afridi can attack all he likes from this position…

17th over UMPIRE REVIEW WI 38-3

Skipper Afridi gives himself a bowl and we have a review for lbw against Sarwan…

16th over Commentary WI 38-3

Hafeez may well go right through, and why not? He's 2-10 from seven. Chanderpaul nurdles to leg for a single before Sarwan waits on a short one and drags through mid-wicket for one of his own. Chinese kid in the Metro this morning, three-years-old and 10st…

Paul in Lancs in the TMS inbox: "I took your advice in good faith and shouted loudly at the radio for some time this morning. In so doing, I completely missed the projected weather conditions for both Rockall and Bailey, and am now very concerned lest a mariner contact me for these details, and then become stricken as a result of the ignorance brought on by your cavalier guidance. Not the kind of social responsibility I expect from a BBC site, I have to say."

15th over Commentary WI 36-3

Riaz revving things up a bit, and finding his line, three dot balls… followed by a no-ball, that's a free hit… Chanderpaul blinks first, backing away, and he ends up toe-ending to point for one. Chanderpaul looks ugly at the best of times, but he's so ugly today, he'll have to sneak up on a glass to get a drink…

14th over Commentary WI 32-3

Dicey little forward poke from Chanderpaul and he just manages to get some bat on a turning ball. Hafeez keeping things tight, Chanderpaul has two from 26 balls…

13th over Commentary WI 32-3

Riaz drifting down leg and that's the first four since Gayle's departure, I believe, Sarwan just helping the ball on its way. Put that shot in a bun and cover it in ketchup – sweet cover-drive for four, that really was a cutey.

12th over Commentary 22-3

Sarwan yanks Hafeez away for one from outside off-stump before Hafeez slides one down leg for a wide. Chanderpaul nought from 15 before he misses one, but it's only a strangled appeal. Shiv finally opens his account with an ease to long-off for one. Umar Akmal wears one right in the mooey – the ball hit a crack and spat up at him. Proof of that old Mel Brooks addage: "Tragedy is when I cut my finger. Comedy is when you walk into an open sewer and die."

11th over Commentary 19-3

Simon (see below), that reminds me of another joke I once heard: why did the nurse resign from her job? Because her husband, the lumberjack who caught the illness off his work-mate, became bed-ridden and she was forced to care for him at home full-time. Here's Wahab Riaz with a spot of left-arm seam. Bang on the spot first five balls before Sarwan nurdles a cheeky single to leg.

10th over Commentary 18-3

Chanderpaul shotless at the moment, like a beached ship creaking in a light breeze… that's another maiden from Hafeez, powerplay over… talking… talking… talking…

Simon in the TMS inbox: "RE Will Collins' hilarious lumberjack joke: why did the other lumberjack not cut down many trees? He caught the same illness from the initial lumberjack, rendering him ill as well."

9th over Commentary WI 18-3

I should remind you that you can tweet me @bendirs1 or with the hashtag #bbcworldcup to get involved. Not entirely sure I know what that means, but there you go. Two slips in for Sarwan… full bunger from Gul but Sarwan misses out, bumping it straight to the man in the covers. That's a maiden, West Indies rattling along at two an over…

Kamran Akmal thinks he's got Sarwan stumped, he's gone absolutely ballistic – but Sarwan's back foot was well in. Maybe Akmal was just happy he caught it. Sarwan dabs off his pads for one – dreadful fielding from Afridi, it was like he had broom handles strapped to the back of his legs.

7th over Commentary WI 17-3

Chanderpaul, recalled to the side, joins Sarwan, so at least West Indies have an experienced pair in the middle. One for Sarwan courtesy of an outside edge before Chanderpaul gets off the mark with a nibble to mid-wicket for two. Gul tests out the middle of the track and Chanderpaul sways out of the line…

Will Collins, Yorkshire, in the TMS inbox: "As we have already mentioned illness and forestry I think I should mention my lumberjack joke that I have just made up: Why did the lumberjack not cut down many trees? Because he wasn't felling very well. I thank you."

6th over WICKET Bravo lbw b Hafeez 0 (WI 16-3)

I think we've got another one – new man Darren Bravo shapes to cut from his first delivery before managing to prod the ball away, but he's gone two balls later, trapped leg before… what did I tell you about Bravo, like Lara in his pomp…

5.1 overs WICKET Smith lbw b Hafeez 7 (WI 16-2)

Smith plays an airy-fairy defensive stroke and is trapped plumb in front by Hafeez. Umpire Davis had no doubts, and neither did Smith's partner Sarwan, who has a quick chat with Smith and sends him on his way.

5th over Commentary WI 16-1

Umar to continue and Smith chops hard for one. Fuller from Gul and Sarwan smothers before Kamran Akmal goes up for a very enthusiastic caught behind – not that convinced, they don't even bother reviewing.

Dave Evans, Bristol, in the TMS Inbox: "I had a horrible forestry accident and was told by my GP that I'd be walking with two sticks within five years. That was 24 years ago, and I'm fine…"

4th over Commentary WI 15-1

Massive wicket, that, Ramnaresh Sarwan the new man in the middle. Hafeez to continue to Smith and he gets a hint of turn. Smith pushes into the covers for one before we have a spot of bail trouble, no idea what was going on there. Aaah, the first official day of London Summertime Boozing. You know the day – no-one intends to go out, but everyone spends all day going, "you have to come out, it's sunny outside", and nine Magners later you're with Tina from accounts singing songs in a Chinese karaoke…

3rd over WICKET Gayle c Afridi b Gul 8 (WI 14-1)

Gul gets one to arc across Smith's bows but Smith chips him to leg for one. Gayle comes down the track and gives it some hammer, shellacking Gul over mod-off for four, before Gul hits back with a sweet yorker. GONE! All too predictable – Gayle backing away and thrashing straight to Afridi at long-off…

Sam in Sunny St Albans in the TMS inbox: "How can Darren Sammy justify his place? Russel has offered much more with the ball and the bat since he has come in, and with Pollard at 6, even Benn will provide more for the team. Sammy must be like Ray Illingworth, Mike Brearley and Michael Vaughan all rolled into one in terms of his captaincy to stay in this team!"

2nd over Commentary WI 9-0

Off-spinner Mohammad Hafeez, from around the wicket, comes in to Gayle. Leg before shout as Gayle prods tentatively and he's very nearly beaten a couple of balls later. Don't even bother looking for that, though, let alone chasing it, that's been heaved over mid-wicket for four.

1st over Commentary WI 4-0

I'm going to stick my neck out and say: "Spring has sprung in London", and in Mirpur, I'm told it's a broiler. It's Umar Gul, who's been swinging it round corners, to start against Devon Smith… the first delivery is short and wide and Smith jumps all over it, cutting it for four. Smith looks to whip Gul off his legs and is rapped on the pads, but that pitched outside leg. Smith is scythed in two by a ball that nips back to the left-hander, four off the first over…

… that's the West Indies anthem, apparently. "We are united through struggles and triumphs of history, We are the children of proud generations that yearned to be free…" Someone might want to remind the chaps of the words, not a peep…

Boredy Bordington, Isle of Man, in the TMS inbox: "Re: 0815 exercises for lower back pain. Simply stretch out each leg in turn in a walking motion. Repeat until you reach a shop that sells pain killers."

As ever, you can get involved via email, text or Twitter, or simply by shouting loudly at the radio or television screen. Darren Sammy – no-one seems to know why he's in the West Indies team, let alone captain. Any ideas?

Pakistan: Shahid Afridi (capt), Misbah-ul-Haq, Mohammad Hafeez, Kamran
Akmal, Younis Khan, Asad Shafiq, Umar Akmal, Abdul Razzaq, Saeed Ajmal, Umar Gul, Wahab Riaz.

West Indies: Darren Sammy (capt), Chris Gayle, Devon Smith, Darren Bravo,
Ramnaresh Sarwan, Shivnarine Chanderpaul, Kieron Pollard, Devon Thomas, Kemar Roach, Ravi Rampaul, Devendra Bishoo.

Umpires: Billy Bowden (NZ) and Steve Davis (AUS)

Bit of a mystery as to why Andre Russell's not in this West Indies team, but watch out for Darren Bravo if you haven't seen him in action before – like watching Lara in his pomp, and he even looks a lot like him. Anyone got an exercises for lower back pain? Done myself a serious ricket on the bike…

Pakistan paceman Shoaib Akhtar is "resting" according to skipper Shahid Afridi, which I think means he's been overlooked. Might not see him again in international cricket. I believe in 21 day-night matches on this ground, the side batting second have won on 14 occasions…

West Indies have won the toss and are going to have a bat in Mirpur. Three changes for West Indies, Chris Gayle, Shiv Chanderpaul and Kemar Roach in for Edwards, Benn and Russell. One change for Pakistan, Saeed Ajmal in for Rehman. Looks like a crackerjack deck, should be some runs.

Hello you. Well, here we are, the first quarter-final of the 2011 Cricket World Cup – Pakistan v West Indies. When this tournament started, a long, long time ago, I still had dreams – I coulda had class, I coulda been a contender, instead of a bum, which is what I am… still, might be a good game…
Around the Web