The Guyana Table Tennis Association (GTTA) has been given the green light to stage this year's senior Caribbean Regional Table Tennis Federation (CRTTF) championships and president of the association Henry Greene wants it to be the biggest ever staged locally.
"We got confirmation from the CRTTF yesterday," Greene told Stabroek Sport, adding that he was elated with the news.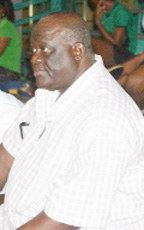 "I feel good!  The whole executive feels great," he said.
Greene said the staging of the tournament which will be held from August 19-25 augurs well for the sport locally.
"It is an opportunity to boost Guyana's table tennis and to get our players recognized even further," he said, noting that staging a tournament of such magnitude can result in significant recognition for the local players.
Greene said the GTTA has already begun planning for the event.
"We already have some sponsors on board and a big fundraising event has been planned for the Easter weekend in Bartica," he explained.
The championships were scheduled to be held in St Lucia but because of the damage wrought by Hurricane Tomas in late October last year, the Caribbean island was forced to pass up the opportunity.
President of the St Lucia National Table Tennis Association (SLNTTA) Guyanese Teddy Matthews had told the GTTA in January  that they would receive a "definitive response" by March month-end.
The GTTA had already tasked Assistant Commissioner of Police George Vyphius and Corporal Andrew Daly with the responsibility of working out the logistics for a successful tournament.
Greene said yesterday he was cognizant of the fact that the GTTA last hosted the Caribbean TT championships in 1997.
Prior to that Guyana had hosted the championships in 1988 and 1992 while the coup attempt in Trinidad in 1991 prevented Guyana from staging the scheduled tournament but a Goodwill series between Barbados and Guyana was held instead.
Around the Web