One of the most historic nights in local football history took place at the Georgetown Football Club (GFC) Ground Sunday when  Guyana's top two football teams were sent packing from the annual Mayor's Cup tournament.
Alpha 'The Hammer' United lost to Camptown in the opening match up of the double header by two goals to nil while Fruta Conquerors got past Pele 2 – 1 in the feature match.
Camptown and Conquerors will meet in the final of the Mayor's Cup later this month for the one million dollars first prize while Alpha United and Pele will lock horns in the third place showdown.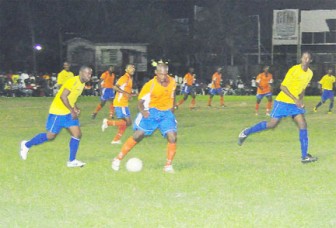 On Sunday, Trinidadian based player Vernon Mills who arrived just in time to play for Conquerors, scored a double which left the star-studded Pele team and their supporters in shock.
Mills recorded his first goal in the 15th minute and Conquerors defended that lead for the remainder of the first half.
Mills was able to score again in the 69th minute making it an even worse night for the Pele squad who could not seem to find the final touch to score, a problem that have plagued them for quite some time.
Pele did not give up and finally pulled one back in the 76th minute when Marvin Joseph found the back of the net. That goal gave Pele and their supporters a  bit of hope with just over 15 minutes of play remaining in the night.
But though they searched frantically for the equalizer, their efforts were futile as the Conquerors squad was able to defend their one goal lead and walk into the final.
Earlier in the night, a rejuvenated Sunburst Camptown humbled the rampant Alpha United team to claim a spot in the final.
The two teams had battled to a goalless first half even though both teams had opportunities to score.
The second half saw Rishawn Sandiford scoring a 69th minute goal for Camptown before Nigel 'Powers' Codrington doubled the lead just four minutes later.
Alpha's spirits seemed daunted and they seemed to lose their composure a bit while Camptown put their all into defending and kept them at bay until the regulation time whistle which was celebrated wildly.
Around the Web