LONDON, (Reuters) – Mark Webber made plenty of  headlines when he won last year's British Grand Prix after  accusing Red Bull of favouring team mate Sebastian Vettel and a  repeat victory would be no less sweet on Sunday.   
Just beating the 24-year-old champion for the first time  this season would be a turn-up for the Australian.   
Vettel's second title in a row looks inevitable after he  chalked up six victories in eight races, starting seven of them  from pole position.  
Webber, who said last year that his win was 'not bad for a  number two', is in a very different situation this time around  but team boss Christian Horner is certainly not counting him  out.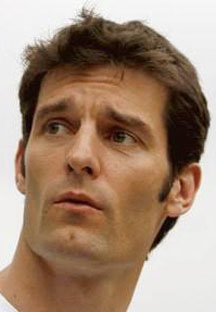 "Mark's got a great track record at Silverstone, he's always  been very, very quick there," he told Reuters.   
"He was quick in British F3, he won the Formula 3000 support  race there back in 2000, and he obviously won the British grand  prix last year.  
"He was on the front row in 2008 in the wet. It's a circuit  he enjoys and goes very well at. For sure he will be pushing  very hard."
  
The Australian's problem, and one that is shared by all his  rivals including McLaren's home hopes Lewis Hamilton and Jenson  Button, is that Vettel's record at the former World War Two  airfield circuit is no less impressive.   
The German has been on pole there for two years running and  won in 2009. British bookmakers William Hill have him as 4/5  favourite and said this week that he had attracted almost 60  percent of the early money.   
 
Last year he staged a remarkable fight through the field  after going from first to last following a clash with Hamilton  that led to a puncture.    
     
  SOLD OUT   
"It's impossible to look at races in isolation but without  those points that he gained at Silverstone on his drive back  through the field, he wouldn't have lifted the crown in Abu  Dhabi," said Horner.   
"I think it's going to be fascinating between the two of  them but it will also be fascinating to see the impacts of the  latest technical directives."   
Not only has Silverstone changed as a layout, with a new pit  and paddock complex in a different location, but this weekend's  race also marks the start of a clampdown on the use of exhaust  gases being used for aerodynamic gain via engine electronics.  
 
That could hurt Red Bull more than main rivals McLaren and  Ferrari, although a ban on teams changing engine maps between  qualifying and the race made no discernible difference in  Valencia.   
Ferrari's Fernando Alonso has also expressed concern about  Pirelli selecting the same tyre compounds for the race as used  at the Spanish Grand Prix in Barcelona, where he was lapped by  Vettel.  
 
Button, second overall, has never been on his home podium as  a Formula One driver and hopes to change that while Hamilton won  in 2008.   
The McLaren drivers had their heads down after Valencia,  where the Red Bull's superiority was a body blow, but return  with renewed determination and a belief that they can fight  Vettel for victory.  
 
"The dream for us would be to have a one-two at Silverstone.  That would be the best weekend I could ever imagine in Formula  One. I think it would be incredible," said Hamilton.
  
"The dream would be to see what kind of effect that would  have on everyone. I think the atmosphere would be unreal.   
"When I got pole position in 2007, even that was insane. And  when I won in 2008, that was insane. But just imagine having a  British one-two in a British team. That would be a weekend that  would go down in history."  
Silverstone have already sold out of Sunday tickets with  more than 120,000 people expected on race day.   
"We expect this year's British Grand Prix to attract one of  the biggest three-day crowds in the event's history," said  Silverstone managing director Richard Phillips.
Around the Web