The 53rd Senior Caribbean Table Tennis Championships opened yesterday at the Cliff Anderson Sports Hall with president of the Guyana Table Tennis Association (GTTA) Henry Greene saying that the association's work was nowhere near completion.
As he welcomed the visiting countries he said that the GTTA will continue to put its best foot forward especially since this tournament will put Guyana on show. He implored the Guyanese players to lift the level of their game especially since they are competing with some countries and players that are higher ranked than themselves.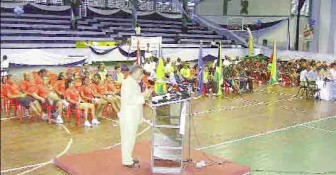 Greene added that the GTTA was looking to widen its vision and said  hopefully this will extend to the Caribbean. He emphasised that the association's school programme will also help to push the development of the sport.
The teams in the tournament are Guyana, Trinidad & Tobago, Barbados, St. Vincent and the Grenadine, St. Lucia, Dominica, Jamaica, Dominican Republic and Guadeloupe.
Sport Minister, Dr. Frank Anthony, said that Guyana has worked hard to get to this stage where the country can host international tournaments. He said that with the tournament on local shores, the signs are positive to promote sport tourism.
Dr Anthony added that if sports organisations continue to have international tournaments here then they will continue to have the support of the government. He also revealed that the government was working on acquiring a Centre of Excellence where local and players from further afield can come and ply their trade.
He was optimistic that when the tournament visits Guyana again that facility will be completed. He said that the government is working on realise this dream but it would also include seeing top coaches and programmes being incorporated in this developmental thrust.
Acting President Samuel Hinds told the athletes whether they win or lose they should have a great experience. He told them to build bonds and play in the true spirit that sports represent.
Meanwhile, president of the Caribbean Regional Table Tennis Federation (CRTTF) Juan Vila, speaking through his interpreter, said that he was proud of the effort that Guyana has made to organise the tournament. He also stated that the visiting delegation felt at home.
He also urged the racquet wielders to compete with respect, brotherhood and humanity.
Around the Web