Following a briefing on the swimmers performance at the recent Goodwill Games swim meet in Trinidad and Tobago  by the team's manager, Jean La Rose, Minister responsible for sports Dr. Frank  Anthony congratulated the swimmers on their performance, making particular mention of Guyana's most accomplished swimmer at the event, Britany van Lange.
"I understand that not only did Britany get gold but she set a number of records as well and so we are very, very pleased about that, and as I keep being reminded if you had had more pool time perhaps you would have been setting even bigger records for others to break but we'll try to correct that, so once again congratulations to all of you and we look forward as we start planning for the next Goodwill Games." Anthony said. At the meet, van Lange performed in eight events, in the girls' 13 – 14 category, gaining six medals including three gold,two silver and one bronze medals. The 14-year-old also set three Goodwill records in with personal best timings. She set new records in the 50m freestyle (28.13s), 100m freestyle (1:01.46s) and the 200m freestyle (2:12.97s) events, with her timing in the 50m freestyle also doubling as a personal best performance. Van Lange also had personal best timings clocked in the 50m backstroke (33.81s), 100m backstroke (1;13.45s), 100m butterfly (1:14.09s), 200m individual medley (2:39.48s).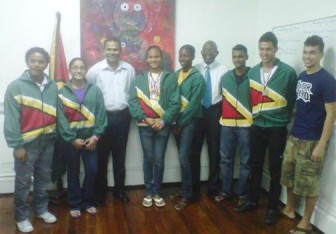 Apart from van Lange, Guyana had seven other swimmers who took part in the event, namely Soroya Simmons, Athena Gaskin, Noelle Smith, Ronaldo Rodrigues, and Sheik Amir. The team was also expected to include two other swimmers; Mark Jardim and Joseph Seguin, who had both qualified to participate in events at the meet, however financial limitations curtailed their attendance. The two were also present at the press conference yesterday.
Originally, Guyana had 13 swimmers who had qualified, and were eligible to participate in events at the meet, but finances only allowed for eight of the swimmers to attend. On that note, La rose extended gratitude to those that came on board to extend sponsorship to the swimmers trip to Trinidad. The team received sponsorship from Citizen Bank, Bank of Nova Scotia, MACORP, R & D Engineering Services Inc, TATOIL of 368 Village Corentyne, Sheel Camp Street Service Station, Texaco Mandela Service Station, Amin's Enterprise and Top Brand.  Nevertheless, despite their small numbers the eight swimmers returned home having captured 15 medals; four gold, six silver and five bronze medals. Apart from van Lange, Smith earned a gold medal, three silver and a bronze medal, Simmons won a bronze and a silver medal while Rodrigues copped a bronze medal as did Gaskin.
Overall Guyana ended fourth in the meet, having collected only 248 points. The event was won by Suriname, which is said to have achieved 1444 points, Trinidad was 9.5 points behind Suriname, and Barbados came in third with points somewhere above 1000. La Rose noted that the size of the team that the GASA sent to the meet, is what put Guyana at a great disadvantage given that the maximum number of participants per team was 40. Coach of the team, Sean Baksh, noted that compared to Guyana's eight, Suriname had 38 swimmers while Trinidad had the full quota of  40 and while he could not remember the exact number, Baksh asserted that the Barbados team had over 30 swimmers.
"We only had eight members the full contingent caters for 40 persons so we were very much short of the total number of persons who could have participated. Britany van Lange was outstanding capturing gold medals
In addition to the medals, a number of the swimmers also managed to gain personal best (PB) in events that they swam. The swimmers also registered a number of personal best from their performances. Accalia Khan realized PB timings in all five of the events that she swam. Swimming in the girls 11 – 12 category, Khan took part in the 50m freestyle (32.68s), the 100m freestyle (1:11.82s), 200m freestyle (2:38.22s), 50 m backstroke (37.53s), and the 50m butterfly (37.53s). George gathered three PBs 100m freestyle (1:11.66s), 100m backstroke (1:25.07s), 50m butterfly (37.26s). Both Khan and George participated in the girls 11 – 12 category.
Soroya Simmons, who competed with van Lange in the girls 13 – 14 category, had PBs in the 100m freestyle (30.68s), 100m backstroke (1:13.17s), 50m backstroke (33.83s), 50m butterfly (34.39s), and 100m butterfly (1:18.26s) events.
Gaskin had three PBs from her performance in girls 15 – 17 50m freestyle (29.71s), 50m breaststroke (39.82s), 100m breaststroke (1:26.22s), while Smith had four in her 50m backstroke (36.64s), 50m breaststroke (38.09s), 100m breaststroke (1:23.57s), 200m IM (2:45.97s).
Around the Web