At the recent 9th Caribbean Karate Championships held from August 12-14 in Grenada, Guyanese karetekas came away with a total of eighteen medals.
This haul included seven gold, six silver and five bronze medals.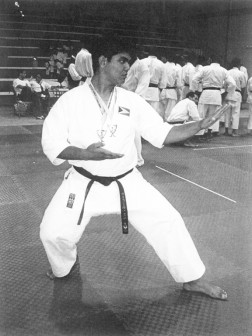 Gold was won by the girls team comprising Christy Dey, Leah Shariff and Aliya Wong in the girls' Mixed Age Group Team Kata, Aliya Wong won in the girls' 10-12 Individual Kumite, Samuel Ming in the boys' 16-18 Individual Kata, Guy Low in the Seniors' Individual Kata while Christy Dey was awarded for the Girls' Individual Kata and Kumite by virtue of being the only entry in these categories.
Silver medals were won by Aliya Wong in the Girls' 10-12 Individual Kata, Leah Shariff in Girls' 10-12 Individual Kumite, Eric Hing in the Boys' 16-18 Individual Kumite and Nathalie Gibson in the Adult Women Individual Kumite.
Bronze medals were won by Leah Shariff in Girls' 10-12 Individual Kumite, Kemo Cornelius for Boys' 13-15 Individual Kata, Eric Hing for Boys' 16-18 Individual Kumite, Guy Low for Seniors' Individual Kumite and Eric Hing, Romel Ramishwar and Kemo Cornelius in the Boys' Mixed Group Team Kata.
Toshana Wong and Theresa Sampat teamed up with Ledisha Boyce of Barbados and they took the silver in the Girls' Mixed Age Group Team Kata while Samuel Ming teamed up with Kyle Fenty and Christopher Coppin of Barbados to take the gold in the Boys' Mixed Group Team Kata.
The attendance at the championships was not as good as it has been in the past as only 54 karatekas from six  countries participated.
The recent strike by LIAT was quoted as the main cause for this. However, competition was of a high level as the top medalists from last year's Panam Championships as well as the previous Caribbean champions were in the competition.
Aliya Wong should have been a double gold winner had it not been for a slight slip up in her Kata final. Eric Hing had an excellent chance in the Kumite final against  Panam silver medalist Fenty of Barbados but his over aggressiveness, which got him a warning, may have caused him to lose focus. Nathalie Gibson, the current Panam Champion, lost in a close encounter with Keisha Grimes of Barbados. A bit more patience would have served her well as she attacked a bit carelessly and was countered when the scores were even.
Samuel Ming's performance in the Boys' 16-18 Individual Kata final was superb and drew loud cheers from those in attendance. His score of 41.9 would have won him second place in the Adult Men's event which had a top score of 42.0.
The silver medalist, Kyle Fenty of Barbados, Panam bronze medalist, scored 41.2 with Eric Hing on 41.0 for third. Ming, Panam Kumite bronze medalist, did not enter the Kumite event. He was recently injured while racing his go-kart at the last GMR&SC race meeting when he suffered a mild concussion and bruises on his right hand.
The next IKD karate event will be the World Championships which will be held in Canada in July, 2012.
Around the Web