Champtress won another major horse race meet, pushing her feature wins to four out of six when the People's Progressive Party President's Cup was held on Sunday at the Rising Sun Turf Club, West Coast Berbice.
The horse, owned by Dennis De Roop of the Simple Royal Stable and ridden by Trinidadian Brian Harding,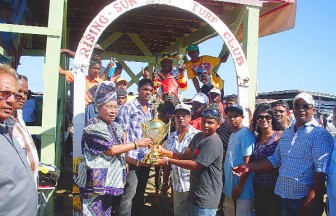 defeated a field of seven other horses to take the $1M top prize in the C Class 1600m event.
Champtress took the lead as the horses headed for the homestretch and never looked back as it finished ahead of Grand De Roja, Marathon Man and Zelik.
The three-year-old 1600m event for Guyana and West Indies-bred horses was won by Captain Cook, ridden by Yap Drepaul, of the Jumbo Jet Stable ahead of Work Force, Swing Easy and Big Impact for the $500,000 winner's prize and trophy.
Pinch D Cash of the Rumour's Stable galloped away with the $500,000 and trophy top prize in the E Class 1600m race ahead of the Bailiff, Got to Go and South Sea. Serenity of the Jumbo Jet Stable with Drepaul in the saddle easily won the West Indies-bred two-year-old 1100m event and $400,000.
Happy Choice, Rock Sonia and Times have Changed rounded out the money.
Prado's Gold of the Asraf Ally Stable struck gold and the $400,000 winner's prize G Class 1100m event ahead of Work Force, The Gap and Zelona. Sheperd Stable's Blessings, ridden by Kumar Singh, ran away with the $300,000 first prize in the Guyana-bred two-year-old 1100m while Speed Girl and Baby Flyer finished in descending order.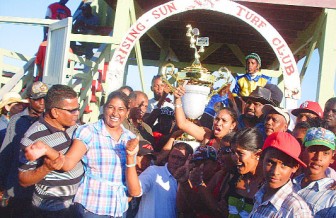 Harding notched up another win, this time atop of Dream Girl from gate to pole in the H Class 1600m. The horse won $220,000 from Pixie Fire, Royal Champion and Princess Renuka. Royal Salute, also ridden by Harding, claimed the $180,000 E Class 1100m race from Mona Lisa, Royal Time and New World
Mona Lisa then returned to win the $140,000 top prize in the I-3 race from J.D Junior, Royal Salute and Pinky. Flying Object, of the Whitney Isaacs Stable, easily won $100,000 in the Division One, Two and Three categories.
Champion jockey Brian Harding edged out Yap Drepaul for championship honors and received his accolade, compliments of Ramesh Sunich of Trophy Stall Bourda Market.
The Jumbo Jet Stable was adjudged the top stable on show.
Over 90 horses participated in the day's action which had close to $10M on offer.
Around the Web