Two second half strikes from Vurlon Mills helped  Guyana's Golden Jaguars secure a 2-1 victory over Bermuda in their second group B match of the 2014 World Cup qualifiers, at the Providence National Stadium last evening.
The victory means Guyana at this early stage lead the group on goal-difference over Trinidad who also defeated Barbados 2-0 in Bridgetown.
In front of an improved crowd compared to Friday's encounter against Barbados, the two teams played to a goalless first half that could be described as frenetic as both team struggled to play with some fluency in their mid-field play and were forced into a procession of long balls and crosses into the box. Three (3) yellow cards were shown (two for Guyana and one for Bermuda) while both sides could barely muster one legitimate clear cut chance each.
In the 27th minute, a sharp left wing cross from Christopher Bourne saw Travis Grant rising above the Bermuda defence in the 18-yard box, only to see his header hit the post.
In the 38th minute, Bermuda's Reginald Thompson-Lambe sent in a flat and fast ground pass to Captain Khano Smith, only for Guyana defender Jake Newton to make a crucial goal-line clearance.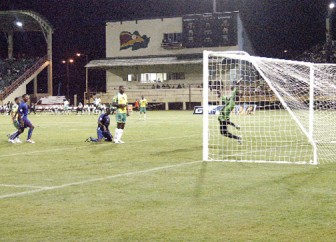 The start of the second half saw the Golden Jaguars with the crowd visibly becoming agitated with the lack of scoring opportunities, begin to assert themselves.
A superb run from mid-fielder and captain Chris Nurse from the center of the field down the right-flank where he dribbled two Bermuda players before sending in another one of many crosses on the night resulted in Mills slamming home the first goal in the 50th minute. It was almost 2-0 soon after, when a poor clearance from the Bermuda goalkeeper saw ball fall into the path of left-back Walter Moore who found himself in the box and with just the `keeper to beat.
But Moore hit a timid shot that was saved by Frederick Hall.
Mills, however, quickly made up for that blunder, when you guessed it – another cross into the area saw him clinch his second goal for the night in the 59th minute.
At this stage Guyana were well and truly on top and had the opportunity of burying their opponents, but bad habits from the Barbados game crept into their play later and they wasted many clear cut chances as Bermuda seemed to be where reeling under the pressure.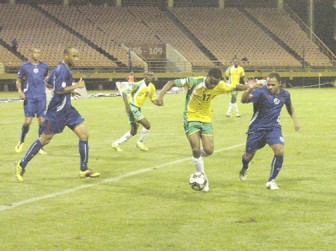 Bermuda almost made them pay for not closing the game off, when some slack defending saw Khano Smith pick up a loose ball a pulled one back in the 90th minute and when the assistant referee signalled  four minutes extra-time, the chances of Bermuda leaving the country with a point was very possible.
That wasn't to be, as the Guyana players held their nerve at the end to claim victory.
Speaking to the media Coach Jamaal Shabazz said after the game.
"As the case was against Barbados, I thought this was a hard-fought game, the players played with great heart and determination. We had to fight every minute for every inch of the pitch against a Bermuda side that was well organized and were tactically very disciplined," Shabazz stated.
"In the end we probably defended too deep and got our self into a scary position, but in the end we did enough to win," he added.
He then went on the echo his gross disappointment on the state of football locally.
"My name is Jamaal not Jesus, it's terrible that local players have no local club competition to go back to sharpen their skills. There is only so much I can do and I urge the GFF to get their act in order. If I have to I would take the players to Trinidad and get them jobs so that they can play over there, since no team can realistically expect to qualify for a World Cup without a professional league and I'm not to going to try and fool the local public into thinking all is well even though, we have won these two games," stated Shabazz.
Acting GFF President Franklyn Wilson thanked the sponsors and fans who turned up for the two games and called on corporate Guyana for future support in Guyana's journey to Brazil in 2014.
Guyana will next take on Barbados and Bermuda in away clashes on October 11 and 15.
Around the Web