By Emmerson Campbell
"Nothing in sport happens without sponsorship."
So said president of Guyana Rugby Football Union (GRFU), Kit Nascimento, at the launching of the Neal and Massy Group of Companies National Schools Rugby tournament yesterday at the National Park Rugby Ground.
The launching also coincided with the Hand-in-Hand Community Youth Rugby Training Programme.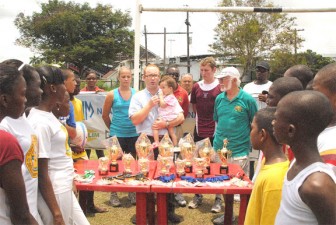 The schools tournament will commence on September 24, and will attract 11 schools and a team made up of Youth Development Officer (YDO) trainees.
Speaking at the launching, Nascimento thanked the Hand-in-Hand Trust Corporation and the Neal and Massy Group of Companies for sponsoring the respective ventures.
He mentioned that only through sponsorship that the sport of rugby or any other sport can improve and be further developed in Guyana.
The (GRFU boss also appealed to the government and corporate Guyana to get behind rugby as the sport of rugby has done Guyana proud.
He highlighted the success of the national women's and men's rugby teams has enjoyed over the past five years.
President of Neal and Massy's Sports Club and ex player of the Yamaha Caribs, Stuart May, said that his company was thrilled to sponsor and to be associated with the sport of rugby.
He added that there was a lot of talent among the youths who will be taking part in the tournament and said that Neal and Massy will help in every way to develop the sport.
Also representing Hand-in-Hand was Adler Bynoe, their marketing and business development officer, who spoke briefly about the company's pleasure to sponsor a good initiative that will aid in the development of young rugby players.
The schools that will be taking part in the tournament include, Uitvlugt Secondary school, Stewartville Secondary, West Demerara secondary St Johns College, Christ Church secondary, Tutorial high, Dolphin secondary, Queen's College High , Marion Academy, North Georgetown secondary and winners of this years Nido Milk Powder Independence Weekend tournament, Covent Gardens.
The Schools Competition and Community Programme will be conducted by two Boost Coaches, Joe Sandiford and Katie Wallis, from Loughborough University, UK, and the GRFU's Youth Development Officers, Theo Henry, and Latif Lasimba and Sabola Gray and Coordinator Troy Yhip.
The one day tournament will cater for boys under the ages of 14 and 16 while the girls' tournament will be an Open one.
Kick off time is 9am.
Around the Web