The 400 metres specialist, who has risen to prominence since last year's School's Nationals, has made his impact on the international scene by being the only Guyanese junior sprinter to make a Carifta Games sprint final in a decade while becoming the first Guyanese junior sprinter to make it to a Pan American sprint final in the 400 metres.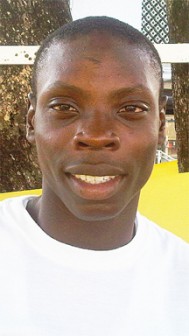 The 18-year-old has dipped his personal best times at every international meet he competed in this year by recording 48.17s at the Carifta Games while lowering it to 47.27s at the Pan American junior games.
James will now look to continue his phenomenal form by replicating or bettering his times at the upcoming South American Junior Championships when he takes the track this Friday.
"well I never ran over there before and I don't know what to expect but I always go out there with one mind and that's to win but I expect to win it because the standards are not as high as the Pan American Games and possibly Carifta as well… so I feel I'm in with a good chance of bringing it home," James told Stabroek Sport in an interview. The young talent trains with the Running Brave Athletic club under the watchful eyes of former junior sprint champion and current holder of the School's under-20 national record, Julian Edmonds and Sham Johnny.
Johnny, another former national athlete, said he believes that James is in good enough form to do well.
"I expect him to do a 46 but it got a lot to do with the altitude because the air there is thin. We didn't change his programme for this meet and he is not going to peak now because he is not doing much speed work but he will do some from tomorrow (today).
"He had a slight nagging in his quad muscle but he's good and I expect him to win," Johnny told Stabroek Sport yesterday.
While James is dominant in the 400 metres Stabroek Sport also questioned Johnny on his preparations for the 200 metres as well since he will be competing in both events.
"Well I expect his time to come down in the 200 metres as well but we haven't been doing 200 metres work. He is mainly using his 400 metres work to help with the 400 metres but me and Julian are very confident of his chances at the meet," Johnny concluded.
James will also represent Guyana at the upcoming Inter Guiana Games (IGG) in Suriname slated for next month.
Around the Web