With two major Open  golf tournaments on the cards for next month, reigning Guyana Open ladies champion Christine Sukhram turned in a creditably performance at the Agostini Ladies Open Golf championships  recently in Trinidad and Tobago.
Sukhram who competed in the championship flight had the best net score on the opening day of the Classic held at the St. Andrew's Golf Club in Port-of-Spain.
She shot 71 in the prestigious ladies tournament and had a first day gross of 83.
The current Guyanese champion had an overall net of 145 but failed to finish in the top three of the tournament that attracted over 35 golfers.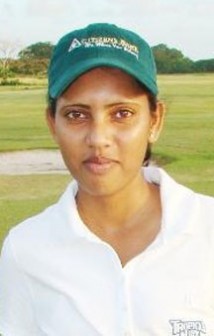 Sukhram said she is not confirmed for the Suriname Open at this time but is looking forward to making the trip to the neighbouring Republic on October 1-2 for the tournament to be held at the Paramaribo Golf Club.
She is however fine tuning preparation for the Guyana Open scheduled for October 22-23 at the Lusignan Golf Club.
President of the Lusignan Golf Club, Brian Hackett  lauded Sukhram's performance at last weekend's Seven Seas/Nature Valley Medal Play tournament.
Sukhram has been dominant on the local scene for the past five year and her handicap is currently 12.
Around the Web