Both defending champions Berbice and archrivals Demerara began their preparation for Sunday's Inter-County 50-overs final in Berbice with net sessions at the Albion Community Centre Ground and Demerara Cricket Club (DCC) Ground, respectively, yesterday.
In blazing sunshine, the Demerara team had a two-hour practice session from 10 am to noon, which focused on simple fielding drills such as slip catches and simulated attacking fielding scenarios. The senior batsmen had 15 minutes batting sessions at the crease.
After that session, Stabroek Sport spoke to Demerara coach Orin Bailey and skipper Leon Johnson, and they both reflected on the team's performances during the round stages, while highlighting the current mood in the camp ahead of Sunday's final.
"I was pleased with the general team play during the three-round matches, everyone contributed at some stage which is basically what I expected from this team that is well balanced with both bat and ball," said Bailey.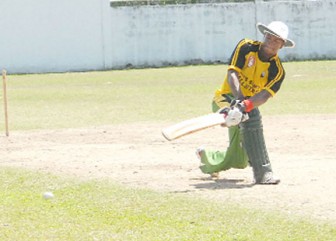 When asked about his personal view about defeating Berbice in the final, coach Bailey said, "I'm very confident this team can topple the Berbicians this time around. In our group game against them at Everest we thrashed them by seven wickets, bowling them out for under 150, and in my view I see no reason why we can't better that performance at Albion."
The return of top ranked West Indies batsman Shivnarine Chanderpaul from his short but successful stint in English county cricket with Warwickshire to the Demerara line-up for their last round match versus the President's XI at Bourda, where he stroked a classy 95 not, has brought a new found solidity to the batting line-up.
Both coach Bailey and skipper Johnson expressed their pleasure at his availability for this key final.
"Chanderpaul's presence is greatly appreciated, no doubt. In the dressing room his international experience makes him a virtual father figure to the players and just having him around I hope will propel the players to give 120% in the final," Bailey said. Johnson, who has the leading run-aggregate in the competition thus far with 145 runs from three innings at an average of 72.5, also expressed his delight at having Chanderpaul around.
"Yes we are very happy to have him around.
He called us up before the President's XI game sort of unexpectedly and alerted us about his availability to play, which I found very professional of him. So all we can do now is repay [him] for his presence by playing hard cricket in an effort to win in Berbice on Sunday," said Johnson.
Meanwhile, Demerara will continue their preparations today with another net session at DCC ground before they leave for Berbice on Saturday morning, where according to Bailey they will have one more intense practice session.
Berbice coach Adrian Amsterdam spoke to Stabroek Sport via telephone from the Albion Ground, after the team's afternoon session from noon to 2.30 pm when the boys from the Ancient County had fitness exercises and fielding drills.
"The buzz in the area is already around," Amsterdam said. "A lot of people are looking forward to this home final and we are confident that we can defend our title."
Although Berbice were humbled by Demerara in the round stage, coach Amsterdam does not think that will have any bearing on the final.
"That defeat at Everest was one of those odd psychological things that happen in cricket.
It was a late start due to the dampness on the wicket and when Demerara asked us to bat, some of the batsmen thinking the pitch was the best for batting, just tuned out mentally.
However, on home turf with the crowd behind us, no such issue will be a problem and I fully expect the boys to lift their game," Amsterdam maintained.
When asked what he thought the presence of Chanderpaul meant for the final, Amsterdam said he and the players won't be placing too much emphasis on his presence.
"We will be treating Chanderpaul as any normal player, when we discuss our team tactics instead of dwelling too much on him. We have special plans for him, which I will not reveal, so Demerara and Chanderpaul will be in for a surprise," stated Amsterdam.
Around the Web