They were rival players in the just-concluded traditional Berbice versus Demerara showdown in the El Dorado Senior Inter-County 50-overs competition.
But now that they will be pooling their talents in the national side for the first time. Both Trevon Griffith,  an opener, and Steven Latcha, an off-spinner, are hoping their fresh presence brings positive results for Guyana in the upcoming West Indies Cricket Board (WICB), Regional Super50 tournament to be hosted here from October 18–29.
Stabroek Sport yesterday afternoon had a brief interview with the duo during the team's first net session at the Everest Cricket Club, Camp Road.
The session was supervised by coach Mark Harper, manager David Black, trainer Orin Bailey and fitness expert Noshavyah King.
Although Demerara Cricket Club (DCC) opener Griffith has attained his first official call-up for the national side, he already has senior level experience of some sort. He represented Guyana against a touring Pakistan side in a warm-up 2-day game in May – but that game was not an official first-class match.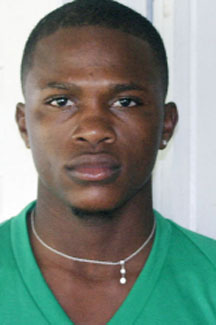 In addition he played for West Indies Under-19 in one match when Guyana last hosted their Regional One-day competition in 2009.
This experience at times showed in the El-Dorado competition as he was one of the better performing batsmen for his side, with his solid batting which enabled Demerara to get off to competent starts in most of their matches. The opener expressed his thoughts about his call-up and what he hopes to accomplish in the future.
"I'm privileged to gain my selection, I've been working hard on my game all year and those long prolonged periods of work have got to this stage and I'm very proud of myself," said Griffith.
When asked what specific areas he's been working on, the 21-year-old left-hander explained: "I've been working on a few things with the help of coach Mark Harper who is around my club (DCC) a lot of time to give me advice. Some of those things include shot selections, batting for longer periods at the wicket and just a general understanding of my role as an opener at this level."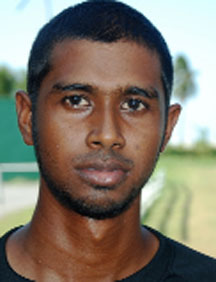 Griffith further highlighted that his DCC compatriots from past and present have congratulated him on his selection while giving him a solid run down on what to expect in the national set-up.  Included in  the current squad expressing congrats to him are wicket-keeper Derwin Christian, all-rounder Christopher Barnwell and medium pacer Paul Wintz.
Finally when asked if he is thinking beyond the upcoming regional tournament to  West Indies colours,  Griffith modestly replied, "just the former."
In the absence of fellow Berbicians Davendra Bishoo on West Indies duty and Versammy Permaul at  the High Performance Centre (HPC) squad, 21-year old off-spinner Latcha gets a chance to show his worth at this level, after consistent accurate bowling throughout the Inter-County competition.
"It's a very good feeling to get picked for Guyana. I've been playing a lot of cricket in Berbice with my club in Albion this year, in which I worked on my bowling by doing a lot of 'spot-bowling' and I'm grateful all of this combined work, has been recognized by the selectors."
When asked if he felt stepping into the shoes of Bishoo and Permaul would be difficult, Latcha replied: "Obviously if Davendra and Permaul were around I would not have gotten this chance today and I will be under pressure to show what I can do. But I feel that I'm ready for this challenge and I'll be doing my best to make full use of this opportunity."
As the team continues its tournament preparation  which began yesterday,  it is expected have three practice matches against opponents yet to be decided in an effort to have a final look at the form of all the players.
Around the Web