VISAKHAPATNAM, India, CMC – A half-century from their captain Kraigg Brathwaite was insufficient to take West Indies Under-19s to victory yesterday, when Australia Under-19s slammed them by 137 runs in the quadrangular Youth One-day International series.
Brathwaite struck four boundaries in the top score of 58 from 83 balls, as the Young Windies were dismissed for 193 in 39.3 overs, replying to Young Australia's 330 for seven from 50 overs in the third match of the tournament at the Port Trust Diamond Jubilee Stadium.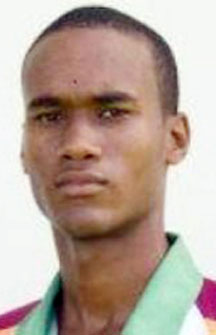 Kyle Mayers made 42, Anthony Alleyne supported with 27, and Akeal Hosein got 22, but the YWI batting lacked staying power.
The West Indies Under-19s were undermined by an Aussie spin triumvirate – leg-spinner Shane Cassell grabbed four wickets for 26 runs from 5.3 overs, Ashton Turner snared three for 43 from 10 overs to complete a telling all-round performance, and fellow off-spinner William Bosisto captured two for 34 from seven overs.
The result meant that the Young Windies' remain rooted at the bottom of the four-team table with no points, following a two-wicket defeat in the first match at the hands of Sri Lanka Under-19s.
YWI's bowling was torn apart by Cameron Bancroft with a run-a-ball 104 that included seven fours and four sixes with assistance from Turner and Sam Truloff.
West Indies Under-19s wobbled Young Australia on 61 for three in the 13th over, but Bancroft formed productive alliances with Turner, whose 66 contained seven fours and three sixes from 45 balls, and Truloff, 50 from 62 balls including five fours and one six.
The Young Windies were put on the back-foot, as Bancroft added 73 for the fourth wicket with Truloff and put on 130 for the fifth wicket with Turner.
After Mayers ran out Turner in the 47th over, Australia's tail still had sting in it, adding a further 56 in the last four overs with Nick Stevens leading the late charge with four fours and three sixes in 39 from 15 balls.
YWI were setback in the first over when John Campbell was dismissed for a first-ball duck off the last ball of the over from Billy Stanlake.
Anthony Alleyne joined Brathwaite, propping up the top order with a stand of 41 before Turner removed him for 27 and Sunil Ambris for a third-ball duck in the seventh over, leaving West Indies Under-19s 41 for three.
Kaveem Hodge became the last of Turner's wickets in the 17th over, leaving Young Windies 71 for four, and it took a stand of 79 for the fifth wicket between Brathwaite and Kyle Mayers to add some respectability to the total.
After Brathwaite was caught behind off Bosisto, who also removed Mayers two balls later in the 33rd over, there was little resistance from the remaining YWI batsmen.
The Caribbean side lost their last four wickets for 18 in 25 deliveries to suffer another jolt in their preparations for the Youth World Cup next year in Australia.
They face tournament hosts India tomorrow at this same venue, looking to notch their first win and revive their chances of reaching the Final.
The Indians stumbled to a one-wicket victory with six balls remaining against the Sri Lankans at the Reddy Stadium in the other match, staying the only unbeaten side in the tournament.
Scoreboard
AUSTRALIA UNDER-19s (maximum 50 overs)
W. Bosisto run out (Alleyne)                         18
J. Peirson c Alleyne b Greaves                     21
*K. Patterson c *Brathwaite b Mayers      13
S. Truloff b *Brathwaite                                   50
+C. Bancroft c wkpr Ambris b Jones       104
A. Turner run out (Mayers)                          66
N. Stevens c Hosein b Jones                         39
S. Cassell not out                                                  6
D. McGlinchey not out                                      0
Extras (lb5, w6, nb2)                                      13
TOTAL (7 wkts, 50 overs)                        330
J. Muirhead, B. Stanlake did not bat
Fall of wickets: 1-41, 2-48, 3-61, 4-144, 5-274, 6-290, 7-326
Bowling: Greaves 10-1-58-1 (w2); Jones 6-0-49-2 (nb1, w1); Davis 10-0-41-0; Mayers 3-0-37-1 (nb1, w1); Campbell 7-0-47-0; Khan 7-0-44-0 (w2); *Brathwaite 7-0-49-1
WEST INDIES UNDER-19s (target: 331 off 50 overs)
*K. Brathwaite c wkpr Bancroft b Bosisto         58
J. Campbell c Stevens b Stanlake                           0
A. Alleyne c Cassell b Turner                               27
+S. Ambris c Patterson b Turner                          0
K. Hodge c Patterson b Turner                            15
K. Mayers c Cassell b Bosisto                               42
A. Hosein c Stevens b Cassell                               22
J. Greaves c Turner b Cassell                                 9
D. Davis c wkpr Bancroft b Cassel                      10
A. Khan c and b Cassell                                             8
J. Jones not out                                                           1
Extras (lb1, w8, nb2)                                               11
TOTAL (all out, 39.3 overs)                               193
Fall of wickets: 1-2, 2-41, 3-41, 4-71, 5-150, 6-151, 7-175, 8-175, 9-185
Bowling: Stanlake 3-0-18-1 (w1); McGlinchey 5-1-26-0; Turner 10-0-43-3 (w3); Muirhead 9-1-45-0 (nb2, w3); Bosisto 7-0-34-2; Cassell 5.3-0-26-4 (w1)
Result: Australia Under-19s won by 137 runs
Points: Australia Under-19s 5, West Indies Under-19s 0
Toss: West Indies Under-19s
Umpires: K. Ananthapadmanabhan, N. Patwardhan
Match referee: S. Patil
Around the Web