By Emmerson Campbell
American Jonathan Teeter starts today's third leg of the Ride For Life five-stage cycle race in the lead position after two stages and 106 miles were covered yesterday.
Teeter, who is part of the California five-man team, followed Godfrey Pollydore's record-breaking first-stage performance by demolishing last year's second-stage record by five minutes. The 46-mile first stage began at Corriverton with 60 riders (15 from Trinidad, USA, England, Suriname, Barbados, Denmark and Germany) and ended at New Amsterdam. The 60-mile second stage started at Rosignol and concluded at Carifesta Avenue.
Teeter, who was edged in the first stage by Guyanese Pollydore, started the second stage at a blistering pace, along with Barbadian teenager Jamal Eastman, and never relinquished the lead.
Teeter and Pollydore recorded a time of one hour 36 minutes and five seconds for the first stage, lowering last year's first stage record by more than two minutes. Last year's record was one hour 38 minutes and 39 seconds set by last year's winner Antonio Quintero of Cuba.
The initial stage began at a fast pace with Trinidadian Barry Lucius and Teeter opening a sizeable lead. However, they were chased and caught by a group of five riders: Marlon 'Fishy' Williams, Michael Anthony, Eastman, Pollydore and Teeter's teammate Adam Carr. The seven cyclists rode together for period of time until Lucius began to experience cramps.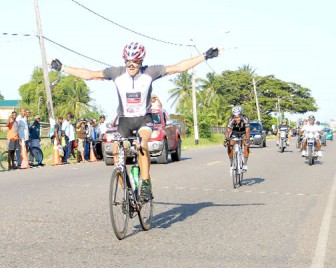 At around 30 minutes into the race, two riders who were in the second bunch sustained injuries after a dog ran into the path of the group. Top local cyclist Geron Williams fell from his cycle after he tried to evade the animal and sustained a fractured collar bone. The other rider who was from Barbados escaped only with scrapes. Speedy work by the medical team saw Geron Williams shuttled to the New Amsterdam Hospital where he was treated and sent away.
Meanwhile, a second group of riders—Robin Persaud, Raynauth Jeffrey and Raymond Newton—began to pursue the lead pack. Lucius, who was dropped from the main pack, was caught by the second pack and was eventually dropped as well. The second pack was in hot pursuit of the leaders, but failed to catch up. The six cyclists in the lead—Pollydore, Teeter, Marlon Williams, Anthony, Carr and Eastman—journeyed together until close to the end of the first stage. At 400 metres remaining, Pollydore and Teeter started to sprint away from Carr, Eastman, Anthony and Marlon Williams. They took up the chase, but their efforts proved futile.
Just before the commencement of the second stage at the Rosignol stelling, Pollydore was presented with the green jersey for winning the first stage.
Stage 2
Teeter who seemed put out that he lost the first stage, rode like he was out to prove something in the second stage.  Stage 2, which started at 14:00 hrs from Rosignol and concluded at Carifesta Sports Complex, also pedalled off to a fierce start.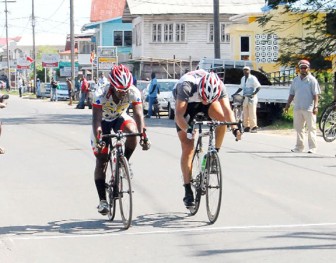 However, Teeter along with 18-year-old Eastman, separated from the group and had their own race throughout the gruelling 60 miles. Sustaining a shocking 50 km per hour pace for 90 per cent of the stage, they steadily increased their lead over their rivals. Newton along with Jeffrey, Persaud, Pollydore and Teeter's teammates stepped up the pace at Calcutta Village to try and catch Teeter and Eastman. The leaders, however, were in another zone as they opened an insurmountable lead of some three and a half minutes by the time they were at Ann's Grove. At around the University of Guyana access road, Teeter and Eastman increased their pace clocking an unbelievable 55km per hour pace. The Barbadian and the American rode like teammates until about 100 metres before the finish line.
At that point their partnership came to an end as they both began a fierce sprint. The American won out, crossing the finish line in a record time of two hours 18 minutes and 45 seconds.
Teeter will be presented with a yellow jersey before the third stage pedals off today. The top six finishers of stage one were Pollydore, Teeter, Marlon Williams, Carr, Eastman and Anthony of Linden respectively.
The top six finishers of stage two were Teeter, Eastman, and Teeter's four teammates Nicholas Sorrensen, Carr, Michael Larsen of Denmark and Henner Rodel of Germany in that respective order.
Stage three, which covers 35 miles, commences today at 09:00 hrs at Wales and ends at Parika. Tomorrow, the penultimate stage, over 62 miles, will commence at 07:30 hrs at Supenaam and conclude at Suddie.
On Sunday, the final stage will begin at 08:30 hrs with the cyclists riding from Linden and finishing in Georgetown in another 62-mile race.
All top 10 finishers will receive cash prizes and trophies.
The top three finishers will receive US$1,000 and a trophy, US$750 and a trophy and US$500 and a trophy respectively.
Around the Web