By Emmerson Campbell
The national men's Rugby Sevens team left Guyana yesterday in quest  for the Pan American Games  Rugby title at the championships currently underway in Guadalajara, Mexico.
The rugby completion will be contested on October 29 and 30.
This is the first occasion that the discipline  is being included in the Games while Rugby Sevens is also now an Olympic sport.
Guyana will be competing against seven other teams – Argentina, Canada, USA, Chile, Brazil, Uruguay and host country Mexico.
Argentina  are the top seeds followed by USA, Canada, Uruguay, Chile, Guyana, Brazil and Mexico respectively.
The eight teams have been divided into two pools, A and B with Pool A consisting of USA, Uruguay, Guyana and Mexico while Pool B is made up of Argentina, Canada, Chile and Brazil.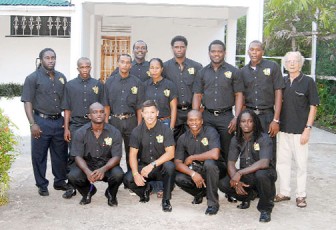 Argentina's rugby side is a world-class team which is ranked among the World's top four teams while the USA and Canada are ranked in the top 10.
Chile, Brazil and Uruguay are the three top rugby teams behind Argentina in South America.
The availability of three overseas-based players (Dominic Lespierre – Australia), (Rupert Giles-England) and (Kevin McKenzie – Australia) will boost the Guyana team's chances.
McKenzie arrived in Guyana last week while Giles and Lespierre were scheduled to join the team in Mexico yesterday.
The national rugby side will open its campaign against Uruguay with the top two teams from each pool qualifying for the quarterfinals.
Before the team's departure Theodore Henry, the assistant coach and manager, speaking with Stabroek Sport, thanked the sponsors and spoke about his side's expectations.
"Firstly I would like to thank the government, the Beharry Company, also the International Rugby Board (iRB) for sponsoring us to participate in these games," said Henry.
"My expectations are for us to win a couple of games and qualify for the medal round on day two.
"The guys are positive; our team spirit is very high and we will do our best to make Guyana proud," Henry added.
He said while in Mexico, the team will engage in practice sessions twice daily as well as video analysis and weight training.
The national team's participation was made possible after the GRFU received a two million dollar subvention from the Guyana government, a one million dollar cheque from Edward B. Beharry and Sons Limited and another million dollars from the iRB.
Ryan Gonsalves will lead the team with Walter George as his deputy.
The team will be coached by Spencer Robinson while the physiotherapist will be Ariane Mangar.
The full squad reads:
Walter George  – Yamaha Caribs, Richard Staglon – Trinidad & Tobago, Rupert Giles –  Overseas (England)Ryan Gonsalves – Hornets, Claudius Butts – Yamaha Caribs, Kevin McKenzie – Overseas (Australia), Dominic Lespierre – Overseas (Australia), Vallon Adams – Yamaha Caribs, Dwayne Schroeder – GDF, Leon Greaves – Hornets, Ronald Mayers – Trinidad & Tobago, Breon Walks – GDF.
Around the Web