CHITTAGONG, Bangladesh, CMC – West Indies were shockingly routed for 61, their second lowest score ever in One-Day Internationals, as they crashed to a humiliating eight-wicket defeat to Bangladesh in the third and final ODI here yesterday.
Sent in on a difficult wicket, the Windies plunged from a position of 33 for one in the 11th over, losing their last nine wickets for 28 runs in the space of 67 balls at the Zahur Ahmed Chowdhury Stadium.
Opener Tamim Iqbal then stroked an accomplished, unbeaten 36 to steer Bangladesh comfortably to their target, with 30 overs to spare.
Despite the result, West Indies took the series 2-1 following convincing back-to-back wins in Dhaka last week.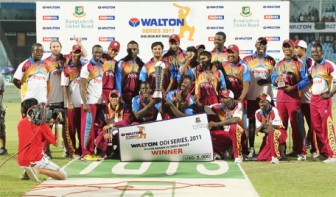 In a nightmare end to the one-day series and with the first Test starting Friday, the Windies narrowly avoided the embarrassment of falling to their lowest ever score, 54 against South Africa in Cape Town seven years ago.
Their batsmen struggled on a slow, low wicket and only 20-year-old opener Kieran Powell, drafted in for his first match of the series, showed any resistance with four fours in 25 off 36 balls.
The only other player to reach double figures was Carlos Brathwaite with 11.
Several batsmen were guilty of indiscretion, however, and Bangladesh capitalised to redeem themselves after two previous sub-par performances.
Left-arm spinner Shakib al Hasan was the chief architect of the Windies demise, claiming four for 16 to earn Man-of-the-Match honours, while 19-year-old off-spinner Nasir Hossain (2-3) and fast bowler Shafiul Islam finished (2-21), finished with two wickets apiece.
Aiming for a clean sweep of the series, West Indies struggled from the outset and it was no surprise when Danza Hyatt fell for three, caught at slip in the sixth over driving loosely at seamer Nazmul Hossain with the score on 10.
With heavy-scoring opener Lendl Simmons on the sidelines with a sore back, much rested on the in-form Marlon Samuels to guide West Indies to a healthy total.
However, the right-hander had scored five from 15 balls when he perished to an injudicious stroke, caught at deep cover trying to carve Shafiul over the top at 33 for one in the 11th over.
Things then fell apart after Powell was bowled by a ripper from 19-year-old off-spinner Nasir Hossain (2-3) with just one run added three balls later, as Bangladesh proceeded to wipe out the Windies middle and lower order.
Nasir, one of four changes to the Bangladeshi team, got one to spin prodigiously from leg and hit off-stump as Powell prodded uncertainly forward.
Next ball, he gobbled up a return catch from Kieron Pollard, and the two blows then set the tone for the rest of the innings.
Left-handed stroke-maker Darren Bravo nibbled at one from Shafiul in the next over to be caught behind at 36 for five without scoring and captain Darren Sammy then missed one from Shakib and was lbw for two at 38 for six in the 14th over.
Denesh Ramdin was bowled between bat and pad by Shakib for four at 45 for seven, and the innings ended swiftly with Shakib picking two of the last three wickets to fall.
Tamim, who stroked three fours off 62 balls, then ensured a smooth start for Bangladesh by posting 25 with Imrul Kayes (11).
When Imrul and Shahriar Nafees (0) perished within the space of 13 balls with just five runs added at 30 for two, the Windies scented an upset but Tamim and Mushfiqur Rahim (10 not out) added an unbroken 32 for the third wicket to see their side to safety.
SCOREBOARD
WEST INDIES
D Hyatt c Imrul Kayes b Nazmul Hossain                 3
K Powell b Nasir Hossain                                               25
M Samuels c Suhrawadi Shuvo b Shafiul Islam       5
D Bravo c wkp Mushfiqur Rahim b Shafiul Islam                                                                                        0
K Pollard c & b Nasir Hossain                                         0
*D Sammy lbw b Shakib Al Hasan                                2
+D Ramdin b Shakib Al Hasan                                        4
C Brathwaite  lbw b Shakib Al Hasan                          11
A Russell c & b Suhrawadi Shuvo                                   2
K Roach not out                                                                    0
A Martin b Shakib Al Hasan                                              1
Extras (lb3, w5)                                                                     8
TOTAL (all out, 22 overs)                                          61
Fall of wickets: 1-10 (Hyatt, 5.3 overs), 2-33 (Samuels, 10.5), 3-34 (Powell, 11.2), 4-34 (Pollard, 11.3), 5-36 (Bravo, 12.4), 6-38 (Sammy, 13.1), 7-45 (Ramdin, 15.2), 8-48 (Russell, 16.4), 9-56 (Brathwaite, 19.5), 10-61 (Martin, 22) 
Bowling: Shafiul Islam 7-1-21-2, Nazmul Hossain 5-0-16-1, Nasir Hossain 2-0-3-2, Shakib Al Hasan 5-0-16-4, Suhrawadi Shuvo 3-1-2-1.
BANGLADESH
Tamim Iqbal not out                                            36
Imrul Kayes c Pollard b Roach                         11
Shahriar Nafees  b Samuels                                  0
*+Mushfiqur Rahim  not out                              10
Extras (lb5)                                                                 5
TOTAL (2 wkts, 20 overs)                              62
Did not bat: Shakib Al Hasan, Shuvagata Hom, Naeem Islam, Nasir Hossain, Suhrawadi Shuvo, Shafiul Islam, Nazmul Hossain.
Fall of wickets: 1-25 (Imrul Kayes, 5 overs), 2-30 (Shahriar Nafees, 7.1)
Bowling: Roach 5-0-16-1, Sammy 2-0-12-0, Samuels 8-1-15-1, Martin 5-1-14-0
Result: Bangladesh won by eight wickets.
Series: West Indies won 2-1.
Man-of-the-Match: Shakib al Hasan.
Man-of-the-Series: Marlon Samuels.
Toss: Bangladesh.
Umpires: Enamul Haque, Paul Reiffel; TV – Sharfuddoula.
Around the Web