The opening Group A match of the 2011 West Indies Super50 Championship between joint defending champions Barbados and the Sagicor High Performance Center (HPC) team at the Everest Cricket Club ground was delicately poised  yesterday before rain intervened and the game ended up being ruled a no contest.
Sent in to bat first in the game which was reduced to 34-overs-a-side, the HPC team was 100-5 after 20 overs when the players left the field.
And, although the sun came out fairly brightly in the afternoon and the ground staff at Everest burning the wet patches on the pitch with kerosene in an effort to get play started, Match Referee Adrian Griffith decided at 3:15pm that the game was a no result.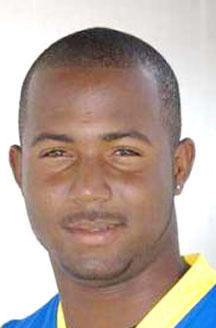 The two sides will each be awarded two points.
Griffith reasoned that not enough time was left to play out a 20-over innings that would have been required to constitute a full match.
Earlier, the game was initially reduced to a 34-overs-a-side contest due to overnight and early morning showers.
The game eventually commenced at 12:15pm after some diligent early work by the local groundsmen and International Cricket Council's (ICC) pitch consultant Andy Atkinson.
New Bajan skipper Kenroy Williams, who recently took over from long-standing skipper Ryan Hinds, won the toss and elected to let his side field first in overcast conditions.
The Sagicor side's starting 11 included Barbadians Shamarh Brooks (Captain), fast-bowlers Kevin McClean and Jason Holder, former West Indies Under-19 wicket-keeper Shane Dowrich and opening batsman Kyle Corbin.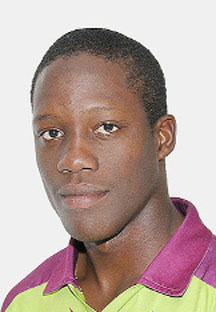 Trinidad fast bowler Shannon Gabriel was excluded from the starting 11.
The HPC team got off to an enterprising start, when off the second ball of the innings opener Corbin blasted a delivery from Tino Best to the point boundary.
But while Corbin was looking to take charge of the innings, he lost his opening partner, Guyanese Rajendra Chandrika  in the fourth over.
Chandrika was caught brilliantly by Dwayne Smith at point jumping into the air acrobatically for one with the score on 20.
Some 20 runs later, Corbin was caught by Ashley Nurse at third-man as he drove uppishly at a delivery from medium pacer Smith and got a thick aerial outside edge.
The HPC side then lost wickets in consecutive deliveries, either side of the 12th and 13th overs, to be precariously placed on 58 for 4.
Firstly, Devon Thomas 10, (17 balls, 1×4) gave Nurse his second catch of the day, this time at long-on, via the bowling of discarded West Indies left-arm spinner Sulieman Benn.
Secondly, Brooks of the first ball he faced, was taken sharply by former West Indies opener Dale Richards at first-slip, also off Smith.
A semblance of a recovery was built during a 34-run, fifth-wicket partnership between number three batsman Nkrumah Bonner 34 (44 balls, 4×4) and Dowrich. However, Dowrich, who was looking fairly solid during his run-a-ball innings of 19 (3x4s), slashed loosely outside the off-stump to give Smith his third wicket.
Holder joined Bonner and the duo took the HPC team to exactly 100 in the 20th over before rain came and stopped play at 13:36 for what proved to be the last of the day's action.
Holder in his innings of seven not out, hit the only six of the day and, given that Barbados have been paired with Enterprise Cricket Club for donations throughout the competition, based on the amount of matches Barbados wins and individual sixes hit by their batsmen, U$50 will be pocketed by the East Coast club.
Both sides are next in action on Friday at the Everest and Bourda venues respectively, with Barbados locking horns with Windward Islands who lost heavily to Guyana yesterday while the HPC team will face hosts Guyana.
Scoreboard
West Indies High Performance Centre
K. Corbin c Nurse b Smith                                                 21
R. Chandrika c Smith b Best                                                   1
N. Bonner not out                                                               34
D. Thomas c Nurse b Benn                                                  10
*S. Brooks c Richards b Smith                                             0
+S. Dowrich c wkpr Browne b Smith                                    19
J. Holder not out                                                                    7
Extras (b4, lb4)                                                                    8
Total (5 wkts, 20 overs)                                                       100
K. McClean, V. Permaul, K. Cottoy, B. Bess did not bat
Fall of wickets: 1-20, 2-40, 3-58, 4-58, 5-82
Bowling: Best 4-0-14-1 (w1); Searles 3-0-19-0 (w2); Smith 7-0-38-3; Benn 5-0-20-1 (w1); Hinds 1-0-5-0
Barbados: *K. Williams, D. Richards, R. Boucher, R. Hinds, J. Carter, D.R. Smith, +P. Browne, J. Searles, A. Nurse, S. Benn, T. Best
Result: No-result
Points: Barbados 2, HPC 2
Toss: Barbados
Umpires: N. Duguid, G. Greaves
Match referee: A. Griffith
Reserve umpire: S. Crawford
Around the Web