Savvy death overs bowling from Jason Holder, inspired the Sagicor High Performance Center (HPC) to a tense seven-run victory over the Windward Islands in the final round Group A match of the 2011 Regional Super50 tournament, at the Everest Cricket Club, yesterday.
The win means that the HPC team has qualified for its first ever semi-final of the regional competition which began in 1972/73 in only their second domestic one-day competition.
The day's proceedings began with Windwards skipper Devon Smith winning the toss in glorious sunshine and handing his HPC counterpart Shamarh Brooks the option of first batting use of the wicket, in windy morning conditions.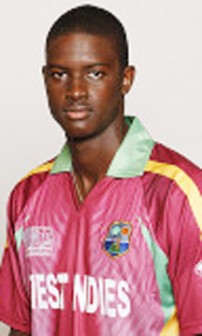 Both sides made one change; off-spinner Dalton Polius replacing left-arm medium pacer Keon Peters for Windwards, while bulky Trinidadian paceman Shannon Gabriel replaced Barbados's Kevin McClean for the HPC side.
The HPC opening pair of Bajan Kyle Corbin and Guyanese Rajindra Chandrika struggled badly in the opening 10 mandatory power-play overs, scoring a meager 19 runs.
Bustling West Indies fast-bowler Nelon Pascal tested the duo in an impressive new-ball spell that read – 5-2-6-0, at that stage.
Left-arm spinner Denis George struck the first blow  in the 11th over trapping Corbin leg-before with the score on 22.
Highlights of the remainder of the HPC innings that culminated in them positing a competitive total of 234/6 from their full quota of 50 overs, was built amongst two significant pillars.
Solid half-centuries by Nkrumah Bonner 65 (77 balls, 5×4, 1×6), captain Brooks 61 not out (47 balls, 5×4, 1×6) and a crucial unbeaten 80-run seventh wicket partnership between Brooks and Guyanese Versammy Permaul.
Those half-centuries aided in jump starting the HPC innings which was struggling to come out of the doldrums of the aforementioned sluggish start, while the seventh-wicket stand gave late fireworks, with Permaul, not known much for his batting, taking 19 runs off the final over from off-spinner Polius.
With Windwards completing their 50 overs quickly, there was time for six overs for their openers Johnson Charles and skipper Smith to negotiate.
They suffered an early setback when Gabriel, who was recently awarded a WICB Developmental Contract for the 2011/12 season, had Charles caught at square leg for two in the second over, attempting a hook
to leave the Windwards on 11 for one at the interval.
After the resumption, Smith and Andre Fletcher began to forge a mini-counter attack in particular during a 57-run stand for the second wicket.
Fletcher took 18 runs off Gabriel's fifth over with an array of shots that included a square drive, a slap through cover, a lofted drive to long-on and a flick past square leg.
However just when he was looking in total command, leg-spinner Kerron Cottoy, induced him to cut away from his body and he was caught at slip for 35 (36 balls, 8×4) with the total on 75 in the 12th over.
Bonner and fellow leg-spinner Cottoy then combined to  grab the wickets of Smith (39), Keddy Lesporis (18) and Hyron Shallow leaving the Islanders in a large spot of bother on 114 for five in the 23rd over.
The momentum then swing back Windwards way as Liam Sebastien and Craig Emmanuel combined for a 65-run sixth-wicket partnership which revived their team's hopes.
Jason Holder entered to what was becoming a topsy-turvy contest in front of an appreciable crowd at the Camp Road venue.
He broke the partnership, by bowling Emmanuel for 26 (45 balls, 2×4) in the 41st over, leaving Windwards 179 for six.
Sebastien, who was dropped on a duck, reached his half-century from 77 balls in the 42nd over.
But he did not have anyone to stay with him finishing not out on 63 (90 balls 3×4), as he watched disconsolately, as 19-year-old Holder came back at the death to finish of the innings.
The win gave the HPC four points, moving them to eight and holding on to second place.
Scoreboard
SAGICOR WEST INDIES HIGH PERFORMANCE CENTRE (maximum 50 overs)
K. Corbin c wkpr Fletcher b Pascal                                                 10
R. Chandrika run out                                                                           32
N. Bonner c wkpr Fletcher b Pascal                                              65
+S. Dowrich b Polius                                                                             2
D. Thomas c Mathurin b George                                                     16
*S. Brooks not out                                                                                61
J. Holder c Charles b Mathurin                                                        2
V. Permaul not out                                                                             35
Extras (b1, lb3, w5, nb2)                                                                  11
TOTAL (6 wkts, 50 overs)                                                            234
K. Cottoy, S. Gabriel, B. Bess did not bat
Fall of wickets: 1-22, 2-75, 3-79, 4-112, 5-150, 6-154
Bowling: Pascal 10-2-38-1 (w3); Sebastien 12-0-50-0 (w1); George 10-0-62-2 (nb1); Mathurin 12-1-42-1 (nb1); Polius 6-1-38-1 (w1)
WINDWARD ISLANDS (target: 235 off 50 overs)
D.S. Smith c Permaul b Bonner                                                       39
J. Charles c Permaul b Gabriel                                                          0
+A. Fletcher c *Brooks b Cottoy                                                   35
K. Lesporis lbw b Cottoy                                                                   18
L. Sebastien not out                                                                           63
H. Shallow c *Brooks b Bonner                                                        8
C. Emmanuel b Holder                                                                     26
D. Polius c wkpr Dowrich b Gabriel                                             17
G. Mathurin b Holder                                                                          1
D. George b Holder                                                                              7
N. Pascal b Holder                                                                                0
Extras (lb3, w6, nb4)                                                                         13
TOTAL (all out, 49.5 overs)                                                     227
Fall of wickets: 1-2, 2-59, 3-98, 4-100, 5-114, 6-179, 7-212, 8-215, 9-227
Bowling: Permaul 11-3-42-0 (w2); Gabriel 8-1-52-2 (w1); Holder 9.5-0-47-4 (w1); Cottoy 12-1-53-2 (nb4, w1); Bonner 9-0-30-2
Result: HPC won by seven runs (one ball remaining)
Points: HPC 4, Windwards 0
Man-of-the-Match: J. Holder (HPC)
Umpires: G. Brathwaite, N. Duguid
Matchreferee: R. King
Reserve umpire: S. Crawford
Around the Web