Sidelined first by the West Indies selectors and now by the Guyana Cricket Board's (GCB) selection panel, middle order batsman Ramnaresh Sarwan said yesterday he believes that there is an orchestrated move by the local selectors to stifle his career.
Sarwan has been dropped from the national Twenty20 side for next year's regional tournament when the squad was announced on Monday reportedly for fitness reasons.
Yesterday he told Stabroek Sport that his non selection was in spite of the fact that he had produced a medical record which stated that he was medically fit to play.
He also claimed yesterday that rules were being arbitrarily changed to suit officials of the GCB.
According to the stylish right hander, he has produced medical records from Memorial West Hospital, Pembroke Pines, Florida.
Sarwan was left out of Guyana's 14-man squad for next month's Caribbean T20 tournament in Antigua and Barbados.
However, Sarwan, who is expected back home on December 12, has been told to make himself available for the four-day local trials and subsequent training sessions which will begin shortly.
Chairman of the senior selection panel Rayon Griffith, a former national fast bowler, had said on Monday evening that he was not aware of any medical records received from Sarwan.
Sarwan yesterday countered by saying that anyone at the GCB  who said that they had not seen these records was  misguided.
"I was made to understand via a media release by the GCB dated the 6th December 2011 that my non-selection for the upcoming T20 tournament was based on my injury that I have had over the past four months and they (selectors) are not sure about my injury status.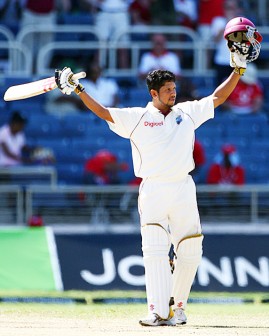 "First of all, I would like to make it crystal clear that I have recovered from my injury and I am working on my match fitness.
"With regards to the board being unsure about my recent injury, I say that is total crap," Sarwan stated yesterday, via e-mail from Canada.
He added:"I had spoken to the president of the board and informed him about the status of my injury.
"I had also spoken to the chairman of selectors, Mr. Rayon Griffith and so from that point of view they were well informed. I also mentioned to Mr. Griffith I was going to Canada for one week to sort out my personal business and I will arrive in Guyana on the 12th December 2011," the 31-year-old right-hander said.
"I just want to refresh their memory. It was my word they took when I withdrew from the 50-over tournament. The (GCB) president said to me via a phone conversation that they couldn't take my word on the update on my injury, well, wonder whose word they took when I withdrew from the team. It was my word they took because I had my team at heart and I was being honest.
"I also noticed in the release, my non-selection had to do with my non-participation in the recently concluded T20 tournament in Guyana. Let me refresh your memories, when I was named in the 14 to represent Guyana in the 50-over tournament, I also did not play in the Inter-County competition which was used to pick that team."
Sarwan also  said that he wished to remind the selectors that he had made a half-century in the solitary practice match prior to T20 tournament and he made every effort to play in the 50-over competition. However, this did not materialize since his injury was still affecting him and he decided to pull out because the extent of the injury would have affected his fielding, adding that he wanted to give his all to his team.
"I must also let you know how grateful I was to be given the best chance to represent Guyana in the 50-over competition since playing for Guyana is always an honour for me. Everyone knew how hard I worked with the trainers and everybody in Guyana and how much I wanted to play in the 50-over competition.
"I am wondering why we couldn't go through the same process? I would like to know why I wasn't given the same opportunity I was given a few months ago? What has changed Mr. Griffith and Mr. Ali?" Sarwan questioned.
"Seeing they couldn't take my word for it, I got the experts who treated me to send an email to me which I forwarded to the GCB on the status of my injury. I think it's important for them (GCB) to release that letter to the public so they can see the latest update on my injury.
"After being out for so long and finally getting the green light to start playing again, it is really disappointing to know it's not my injury that's keeping me out now; it's more a case of people being vindictive against me. My career of drama continues," he declared.
(Caption) Ramnaresh Sarwan said he feels that there are moves afoot to stifle his career for Guyana.
Around the Web