CHENNAI, India, CMC – Denesh Ramdin said he was looking forward to leading reigning champions Trinidad & Tobago in the Caribbean Twenty20 Championship next month.
The West Indies wicketkeeper/ batsman was elevated to the position, after long-standing captain Daren Ganga resigned last month.
Ramdin said he was confident about taking over the leadership of the side and it would involve a lot of work and effort.
"I have some experience of leadership from when I captained the West Indies Under-19 team, so hopefully I can bring that to the table and help the T&T team reach an international level," he said in an interview with www.digicelcricket.com.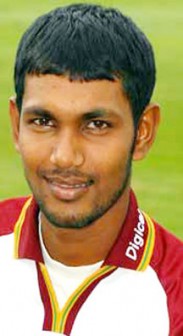 "I'll be captaining the team during the CT20 early next year, and as the reigning champions, we'll be looking to stay on top and play on our best. You can't take it lightly just because we won last time: we have to be on great form and stay focussed."
Ramdin said the year ended on a sour note for him because West Indies failed to win either the Test or One-day International series in India – but he hoped that next year would bring a change in the team's fortunes.
"Things haven't gone too badly as a team, but I do feel we could have been more consistent and performed better as a whole," he said.
"Looking ahead to 2012, we will be trying to maintain our competitive spirit. [We are] hosting Australia then New Zealand. In between, we'll be facing England away; they are obviously one of the best teams in the World, so we will have to be ready for that and we'll need to perform well under pressure."
West Indies are scheduled to return home this week from the Asian sub-continent.
Around the Web