As the Guyana senior cricket team  begin preparations for next month's Caribbean Twenty20 tournament that kicks off in Antigua and Barbados from January 10 – 22, arguably the biggest story coming out of Guyana's 14-man squad selection besides the omission of Ramnaresh Sarwan is  the selection of Christopher Barnwell as captain.
Some have queried the wisdom behind elevating Barnwell to such a position, especially when the team includes  Shivnarine Chanderpaul, who is a former West Indies captain, Leon Johnson, a former West Indies Under-19 captain, and Veerasammy Permaul who recently led the West Indies (A) team.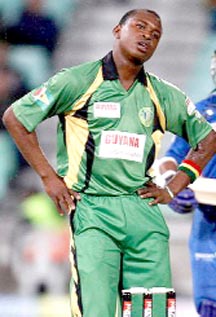 While some cricket afficiandos continue to express various views over the decision, there is absolutely no doubt that this is a proud moment in Barnwell's cricket career which is still very much in its embryonic stage.
Stabroek Sport caught up with the 24-year-old all-rounder during the national team's training session at the Everest Cricket Club on Thursday and he spoke of his feelings on being selected  captain to cap off what has been a fairly successful year for him.
"It's a great feeling to lead Guyana.  I have had good captaincy experience in the last couple years leading my club (Demerara Cricket Club) to a few titles and Georgetown to two finals, so, really for mem it's a privilege to get a chance to lead my country," said Barnwell.
Barnwell made his West Indies debut this year in Twenty20 matches, playing four games (one versus Pakistan and India and two versus England) and at the 15th annual Guyana Cricket Board awards ceremony on Wednesday was named the Most-Improved-Player, receiving the Lance Gibbs trophy. He credited his productive year to hard work and dedication.
"I have been putting in some hard work over the last couple of years, did well at a couple of regional T20 tournaments, had a good T20 game versus India and overall I would simply put it down to hard work and dedication," Barnwell said modestly.
When asked to give a response to critics who have questioned the decision to make him Guyana T20 captain, Barnwell said he will not let that faze him.
"People have their comments to make I can't stop people from talking, but I still have to remain focused  on the responsibility given to me, the selectors have put their trust in me to lead the team, so I will do my best to perform and help Guyana win the tournament."
Finally when asked if he views his elevation to the captaincy for next month's tournament as a chance to keep the position on a long-term basis or whether it's just a  stop-gap measure until Sarwan returns, Barnwell kept an open mind.
"Everything happens for a reason, you never know if I go out and help the team to win tournament selectors may start thinking differently in the future. No doubt Sarwan is a very good captain, but they have put the trust in me now and I intend to do it to the best of my ability."
Around the Web