National scrabble champion Abigail McDonald overwhelmed 12 other players to win the Scrabble Scramble competition organized by the Guyana Association of Scrabble Players (GASP) on Sunday at the Malteenoes Sports Club.
The undefeated McDonald won the competition with a positive spread of 321 points.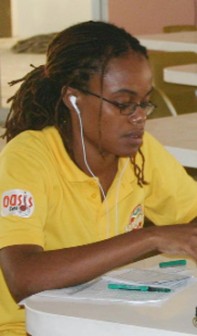 She defeated second place finisher Moen Gafoor (60) and third place finisher James Krakowsky (93) on the way to finishing with six wins.
McDonald also secured wins against Wayne Carle (34), Colin Chichester (42), Michael Rudolph (48) and Adams (44) respectively.
Despite ending with a positive spread of 493, two losses in the first and fifth rounds, put paid to Gafoor's hopes of winning and he eventually settled for second place.
Gafoor opened on the negative side after losing by 103 points to Adams.
He rebounded with wins against Orlando Michael (62), Carl Gordon (320) and Grace Hercules (256), before losing to McDonald.
He ended the competition with a win against Krawkowsky (18).
Krakowsky also scored four wins and two losses  ending with a positive spread of 311 points to secure third place.
Krakowsky got off to a bright start with consecutive wins against Michael (54), Ewart Adams (33) and Hercules (102) but could not outsmart McDonald in their fourth round clash.
Another win against Delon Moffat (233) would be his last as he subsequently was beaten by Gafoor.
Around the Web