SYDNEY, (Reuters) – Batsman Michael Clarke was  appointed Australia's 43rd test cricket captain yesterday, a  day after Ricky Ponting's resigned the post.
The 29-year-old, who served as vice-captain under Ponting,  will also take charge of the one-day side, which plays three  matches in Bangladesh next month. All rounder Shane Watson is  the new vice-captain of the test and one-day teams.
"I just want to say what a honour it is to be named captain  of Australia and a huge surprise to see Ricky stand down,"  Clarke told a media conference. "I spent a lot of time with  Ricky during the world Cup and I was very much unaware of where  he was it so it was a big surprise for me."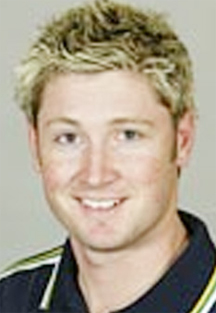 Cameron White will retain the captaincy of Australia's  Twenty20 team, which Clarke relinquished after losing the fifth  Ashes test to England as stand-in captain for the injured  Ponting in January. Watson is also vice-captain of that team.
Nicknamed Pup, Clarke scored 151 on his test debut in  Bangalore in 2004 and another century on his home debut against  New Zealand, although his form has dipped over the last year.
Long Ponting's anointed successor, Clarke's tattoos, top of  the range BMW and glamorous apartment in the beach side Sydney  suburb of Bondi have jarred with more traditional parts of the  Australian public.
Clarke is also a keen tweeter and it was via his Twitter  page (twitter.com/MClarke23) that he apologised for not walking  when given out during the Ashes test defeat in Adelaide last  December.
He faces a baptism of fire over the next 12 months as  Australia follow their trip to Bangladesh with test tours of Sri  Lanka and South Africa before hosting New Zealand and India in  the next southern hemisphere summer.
His mentor Ponting, who wants to continue playing in both   one day and test matches, was included in the squad for  Bangladesh, which was also announced  yesterday.
Around the Web